2023 NFL Draft update: 10 seniors who generated buzz among NFL scouts in Week 1
2023 NFL Draft update: 10 seniors who generated buzz among NFL scouts
UCLA standout Zach Charbonnet is one of the more physical running backs in the 2023 draft class. (Michael Owens/Getty Images)
Each week during the season, On3's Matt Zenitz teams up with Senior Bowl executive director Jim Nagy to identify some senior 2023 NFL Draft prospects generating buzz in the scouting world.
Here are 10 who fall into that category for Nagy and the Senior Bowl staff based on their play in Week One.
Georgia QB Stetson Bennett
Week 1 stats: 25-of-31, 368 passing yards, two passing TDs, one rushing TD during a 49-3 win over No. 11 Oregon.

Nagy's take: "We need to start talking about Stetson Bennett as a legitimate pro prospect and not just a fun story or good college quarterback. Our scout who was in Atlanta for Saturday's 49-3 thrashing of Oregon said it was the best game he's ever seen Bennett play, and the tape confirmed it. Bennett was in complete control of the Bulldogs' offense. You simply don't see many college quarterbacks look as comfortable and poised in a big national stage game like Bennett was in this Chick-fil-A kickoff game. Georgia has plenty of next-level skill talent, but Bennett was the main reason the Bulldogs scored touchdowns on their first seven possessions. Bennett showed good release quickness, good-enough arm strength to drive the ball and fit it into tight spots, and he consistently put the ball where his receivers could do something with it after the catch. His ability to extend and keep plays alive has always been a strong point, and he did those things again in this game when he needed to. The haters can keep hating, but the Senior Bowl is going to give him Bennett serious consideration the rest of the fall."
UCLA RB Zach Charbonnet
Week 1 stats: 21 carries for 111 yards and a TD, and 36 receiving yards on five catches during a 45-17 victory over Bowling Green.

Nagy's take: "While he didn't have any explosive runs, Zach Charbonnet confirmed what we thought about him off his underclassman tape — he's a load to bring down. UCLA is a difficult team to defend because fifth-year senior quarterback Dorian Thompson-Robinson can soften a defense with his perimeter running ability, and then Charbonnet can hammer you between the tackles. Charbonnet is the big 220-plus pound downhill back that every NFL team is looking for, and he brings a consistent attacking presence to this Bruins offense. Maybe the best way to say it is Charbonnet is just one of those determined runners that forces a defense to pursue and get as many hats to the ball as possible. Maybe the best takeaway of the day was seeing him catch the ball comfortably during pregame (and he had five receptions in the game). Regardless of position, there aren't many prospects on the West Coast as innately physical as Charbonnet. Unless something unforeseen happens, Charbonnet will remain near the top of the running back stack on our Senior Bowl board all season."
Florida State DL Robert Cooper and Fabien Lovett
Week 1 stats: Two tackles each during a 24-23 win over LSU.

Nagy's take: "Two difference-makers in the game Sunday night was the Florida State interior defensive line duo of Fabien Lovett and Robert Cooper. The Seminoles held LSU running backs to 38 rushing yards, and the main reason was the stout play of Lovett at three-technique [outside shoulder of guard] and Cooper at one-technique [shaded on center]. Lovett and Cooper are different prospects, with Lovett being longer and twitchier and Cooper being thicker and harder to move, but they both project right now in the early-to-mid Day 3 range. Cooper, in particular, looks like he's made a nice jump from his junior tape."
Florida S Trey Dean III
Week 1 stats: 12 tackles, one tackle for loss during a 29-26 win over Utah.

Nagy's take: "Trey Dean was extremely active all night. We had a chance to visit with Dean in Gainesville back in March, and all we told him was to fly around more consistently than he did last year. Based off this live look, he listened to our advice because he was playing the fast and physical game that NFL scouts will want to see."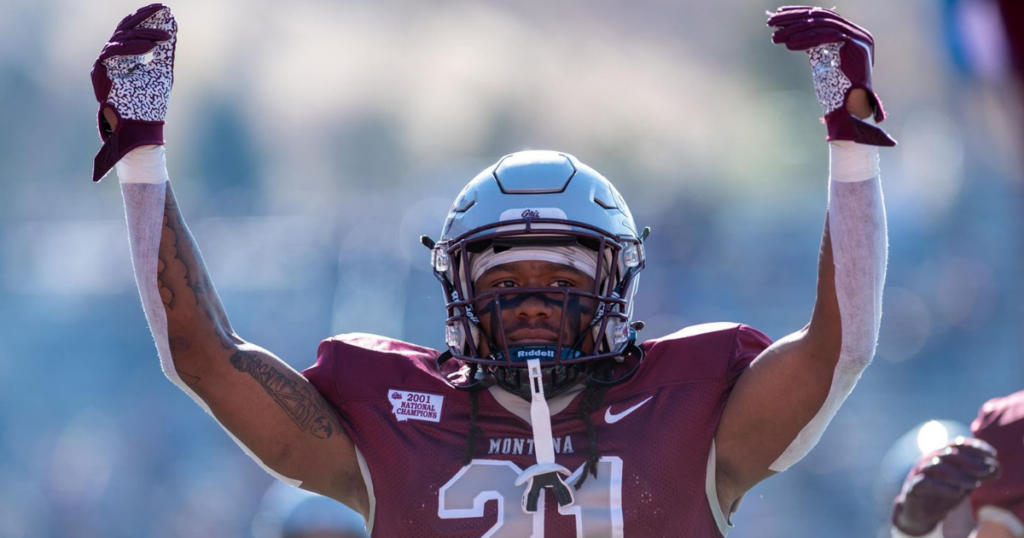 Montana CB Justin Ford has good size (6 feet 2, 200 pounds) and led all Division I players with nine interceptions last season. (Derek Johnson/Montana Athletics)
Montana CB Justin Ford
Week 1 stats: Two tackles, one fumble recovery during a 47-0 win over Northwestern State (La.).

Nagy's take: "One small-school player that impressed us was Justin Ford. Although he was targeted only three times against Northwestern State, Ford made a great impression during our pregame exposure with his NFL body type and movement skills. It makes sense that Northwestern State threw away from Ford, considering he led all levels of college football last year with nine interceptions. And he did look a little disinterested at times, but there simply aren't many 6-foot-2, 200-pound corners who move as fluidly and sudden as Ford. It's doubtful the former Louisville and JUCO transfer will get seriously tested at the FCS level, so he's the type of sub-FBS prospect that NFL scouts will want to see against top receivers in Mobile."
Appalachian State OLB Nick Hampton
Week 1 stats: Five tackles, 2.5 sacks, one forced fumble during a 63-61 loss to North Carolina.

Nagy's take: "One of the best games of the weekend was North Carolina's win over Appalachian State, and one player who didn't disappoint was Nick Hampton. We targeted this game because Hampton was our highest-graded Group of 5 defensive player off junior tape and we wanted to see him against a Power 5 opponent. Hampton did a nice job using his length and athleticism to consistently win off the edge, and he finished with a game-high 2.5 sacks. One of the main reasons we wanted to see Hampton early in the season was because he only weighed 224 pounds in the spring and we wanted to get an up-close look at his body type to gauge his true growth potential. After getting up on him during pregame, we think Hampton could easily carry 240 pounds for his pre-draft process, which could very well start in Mobile."
Utah TE Brant Kuithe
Week 1 stats: Nine catches, 105 yards, one TD during a 29-26 loss to Florida.

Nagy's take: "Brant Kuithe stood out with his nine catches for 105 yards and one touchdown. He consistently showed the ability to create space at the top of routes and he did some good things after the catch, which was one of his best attributes on the junior tape we looked at this offseason. Utah has another draftable tight end, Dalton Kincaid, who many NFL teams have graded higher right now, but he did not have the same impact in Week One. There's a pretty good chance both Kuithe and Kincaid end up in Mobile after the season."
Houston QB Clayton Tune
Week 1 stats: 22-of 32 for 206 yards and three TDs, with 51 rushing yards and another TD during a 37-35 triple-overtime win over UTSA.

Nagy's take: "There were a bunch of great down-to-the-wire games in Week One, but none were more thrilling than Houston's 37-35 triple-overtime win over UTSA. Clayton Tune was streaky on junior tape and his ball placement wasn't always perfect last Saturday, but he impressed us with his mobility and came up big in clutch moments when his team needed him to make a play, including the leaping game-winning score on a two-point conversion. Live exposures are always important to gauge a quarterback's arm strength, and Tune's arm is more than good enough to play at the next level. Coaches rave about the work he put in this offseason to change his body, and our scout was most impressed with his ability to scramble and make plays with his legs. Tune is currently graded as a middle-round prospect by most NFL teams we've spoken with, and he'll definitely be in the mix for a Senior Bowl invitation later this fall."
Michigan State EDGE Jacoby Windmon
Week 1 stats: Seven tackles, four sacks, one forced fumble during a 35-13 win over Western Michigan.

Nagy's take: "Michigan State coach Mel Tucker made what could be a season-changing personnel decision just a couple of weeks ago when he moved Jacoby Windmon, a UNLV transfer, from linebacker to end. Tucker told us that Windmon showed he was the team's best pass rusher during fall camp, so the full-time move to the edge makes sense and it could significantly impact Windmon's draft value. Aside from a three-sack performance in the season finale last year, the majority of UNLV tape we watched this summer was Windmon playing stacked linebacker. In his incredible four-sack effort against Western Michigan, Windmon displayed legit pass-rush skill, particularly with his ability to dip around blockers. There aren't many NFL rushers that can do some of the things Windmon showed in his Spartans debut. Windmon was an easy choice for this week's Senior Bowl defensive player of the week."
The 2023 NFL Draft will be April 27-29 in Kansas City.
Link to original artical: https://www.on3.com/news/2023-nfl-draft-update-10-seniors-who-generated-buzz-among-nfl-scouts-in-week-1/