2023 NFL Draft Update: Week 4
6 seniors who generated buzz among NFL scouts in Week 4
Link to original article: https://www.on3.com/news/2023-nfl-draft-update-6-seniors-generated-buzz-scouts-week-4/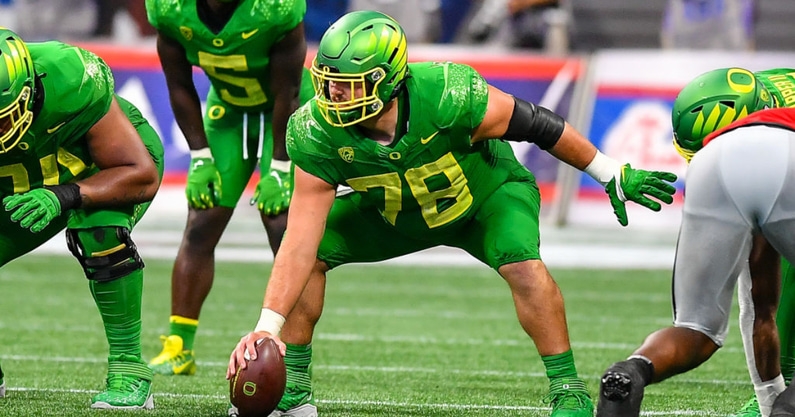 Alex Forsyth is in his second season as the starting center for Oregon. (Rich Von Biberstein/Icon Sportswire via Getty Images)
Each week during the season, On3's Matt Zenitz teams up with Senior Bowl executive director Jim Nagy to identify some senior 2023 NFL Draft prospects generating buzz in the scouting world.
Here are six who fall into that category for Nagy and the Senior Bowl staff based on their play in Week Four.
Clemson DT Tyler Davis
Nagy's take: Tyler Davis, who appeared on many media draft analysts' "Top 100" lists over the summer, played the best game our staff has seen live (or on tape) in the Tigers' dramatic 51-45 double-overtime win over Wake Forest. Davis was one of Clemson's lone bright spots on defense, finishing with six tackles, 2.5 tackles for loss, 1.5 sacks, and a pass breakup. He was even more disruptive than that when you put on the tape. Davis has average size (6 feet 2, 295 pounds), but he showed better explosion, physicality and overall effort than in past exposures. He consistently played with the upper hand at the point of attack, and there were multiple instances, especially late in the game when the Tigers' defense needed someone to make a play, that he simply walked back Wake's interior o-linemen. Davis, who had missed the previous two games with an injury, could play his way into a Senior Bowl invitation with more performances like the one he had in Winston-Salem.
Oregon C Alex Forsyth
Nagy's take: Another big man who stood out last week, albeit on the opposite side of the country, was Alex Forsyth. The Senior Bowl has had three scouts see Oregon play live in the first four weeks of the season, and all three see Forsyth as an eventual NFL starter. Forsyth, who has played every position except left tackle over his college career, projects best at center in the pros. He has good size (6-3½, 312 pounds) and length (80?-inch wingspan) for the center spot, and what makes him different than most college centers are his ability to create movement on drive blocks and to consistently anchor the pocket, which stood out against Georgia's talented front in Week One. That he is an older prospect (he turns 24 in February) certainly will get addressed in draft meetings but we don't see it impacting where he ultimately gets drafted in April. Coaches rave about his overall makeup, particularly his intelligence, and he compares favorably to a player we had in last year's Senior Bowl, former Kentucky C/G Luke Fortner, who went in the third round and was the opening-game starter at center for the Jacksonville Jaguars.
Troy C Jake Andrews
Nagy's take: Staying at center, one under-the-radar player who's getting NFL scouts' attention in the early part of the season is Jake Andrews. Our staff first started hearing buzz from scouts about Andrews the first couple weeks of the season, so we made the two-hour drive from Mobile to Troy, Ala., to check him out last week against Marshall. Andrews, who has played all three interior spots, started all 23 games the past two seasons at right guard before moving to center this year. Andrews is a little undersized – in the 6-2 to 6-3 range – but it actually works in his favor because he's also a natural deep knee bender, which allows him to consistently get under defenders and establish leverage. Offensive line coach Cole Popovich, who used to work with the New England Patriots, told us he's implemented the same schemes they used with the Patriots and that Andrews has handled making all the line calls and checks. Staffers say Andrews will run in the 5.0-second range in the 40, bench press 40-plus reps and might have a vertical jump of 35 inches next spring. Andrews is a player in our backyard we'll be watching closely the rest of the fall.
Florida WR Justin Shorter
Nagy's take: One player we've been waiting on to have a breakout game is Justin Shorter, and he responded with a career-best seven catches for 155 yards in a big-stage road game in Knoxville. Scouts measured Shorter at just under 6-4 (at 223 pounds) with 33½-inch arms and a disproportionately long 83-inch wingspan, which is the normal equivalent of someone 6-11, so there won't be many receivers with a better frame in the 2023 NFL Draft. What stood out most to us in a live setting were Shorter's play tempo and route-running ability. Most receivers his size tend to be gradual speed-builders and they generally struggle to get out of breaks, but Shorter has good acceleration in his releases and he's good at squaring off routes. One other thing that got our attention during pre-game was the size and strength of Shorter's hands (10 inches), as he can simply clamp the football away from his body. More productive performances like the one he had against Tennessee will help him become the fifth Gators receiver in the past four years to end up in Mobile, following Van Jefferson, Tyrie Cleveland, Trevon Grimes and Kadarius Toney.
Princeton WR Andrei Iosivas
Nagy's take: Last year North Dakota State's Christian Watson parlayed an impressive Senior Bowl into becoming the No. 34 pick in the 2022 NFL Draft (to Green Bay), and last Saturday we saw another FCS wideout who could greatly benefit from a week in Mobile – Andrei Iosivas. For those who follow the draft process year-round, Iosivas' name might be familiar since he appeared on Bruce Feldman's "Freaks List" over the summer. Iosivas, who is the NCAA indoor heptathlon champion, no doubt has the physical tools to play at the next level. Scouts measured Iosivas at just under 6-3 during the spring, and our Mid-Atlantic scout, former Baltimore Ravens linebacker Brad Jackson, said Iosivas has an NFL body when you see him up-close. Perhaps our best takeaway from last week's game against Lehigh was Iosivas' willingness to be physical, since playing on special teams will undoubtedly be big for him moving forward. At times, track athletes and smaller school prospects struggle with that part of the transition to the next level, but after this exposure we don't have those concerns with Iosivas.
Boston College WR Zay Flowers
Nagy's take: We liked Zay Flowers' junior tape, but we like him even more now that we've seen him in person. Depending on how staff's run pregame warmups, wide receiver typically is a position where scouts can get a good feel for a prospect's skill set and that certainly was the case Saturday in Tallahassee with Flowers. The most impressive thing about Flowers at field level is his fluid change of direction and overall movement. One scout we used to work with in the NFL described players like Flowers as "race cars" because of their ability to change gears and handle turns. On tape, Flowers has unusual route savvy in terms of using hesitation and suddenness to set up defenders and create space; being up close you could feel how truly explosive he is. In addition, Flowers is one of the most natural catch-to-RAC transition guys in this year's receiver class and he has the type of "easy hands" that all NFL teams look for in slot receivers. While he had seven catches for just 45 yards against Florida State, Flowers got pushed up the Senior Bowl board this week.