2023 NFL Draft update: Week 5
Seniors who generated buzz among NFL scouts in Week 5
Link to article: CLICK HERE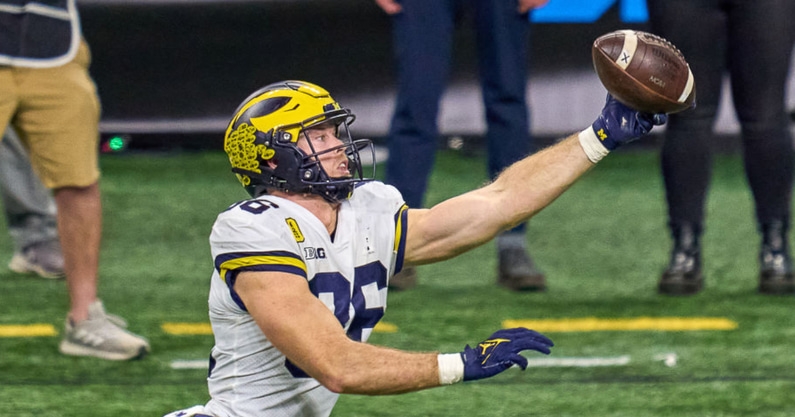 Michigan TE Luke Schoonmaker has taken advantage of increased playing time this season. (Robin Alam/Icon Sportswire via Getty Images)
Each week during the season, On3's Matt Zenitz teams up with Senior Bowl executive director Jim Nagy to identify some senior 2023 NFL Draft prospects generating buzz in the scouting world.
Here are eight who fall into that category for Nagy and the Senior Bowl staff based on their play in Week Five.
UCLA WR Jake Bobo
Nagy's take: Last Friday night against Washington was the fifth time in the past two years that our staff has seen UCLA QB Dorian Thompson-Robinson play live, and it was easily his most impressive performance. One player he targeted often, with great success, was under-the-radar WR Jake Bobo. We first saw Bobo, who had six catches for 142 yards and two TDs in the Bruins' 40-32 win over Washington, a couple of summers ago at the Manning Passing Camp and he impressed us that day with his route-running ability for a bigger receiver. Bobo, a transfer from Duke, has good feet for someone his size (he's listed at 6 feet-5, 215 pounds) and he consistently did a good job snapping off routes against Washington. All six of Bobo's catches went for first downs, and he has the type of play strength to move chains on underneath routes. To that point, there were a couple of times against Washington where Bobo stood up multiple tacklers without going down. After last week's performance, Bobo is definitely an "arrow up" prospect for us.
California FS Daniel Scott
Nagy's take: Keeping it on the West Coast, another prospect we've seen little about in the media is Cal safety Daniel Scott. The Golden Bears have quietly cranked out a bunch of NFL defensive backs in recent years, including Senior Bowl alums such as New York Jets safety Ashtyn Davis and Minnesota Vikings safety Cam Bynum, and Scott is the next in line for the next level. Scott is a fluid mover who has the range to make plays from the post as a middle-of-field centerfielder. He made an impressive interception last Saturday against Washington State that showed his closing speed and ability to track the ball. Scott will be interesting for NFL teams looking to upgrade the free safety position this offseason.
Michigan TE Luke Schoonmaker
Nagy's take: It's always great to see prospects take advantage of opportunities, and that's exactly what Michigan TE Luke Schoonmaker has done the past couple of weeks with fellow senior Erick All out of the lineup. Schoonmaker, who only had 19 catches coming into this season, already has 17 grabs in five games this season, including 11 in the past two games alone. One thing that separates Schoonmaker from many pass-catching tight ends in this year's draft class is that he has true combo ability as a receiver and blocker. Our scout who was in Iowa City last Saturday described Schoonmaker as a "ready-made NFL tight end."
TCU WR Derius Davis
Nagy's take: There are a bunch of undersized slot-type receivers in the 2023 draft class and one of the main separators in NFL draft rooms undoubtedly will be special teams value, mainly return ability. One prospect who will be in serious consideration for a Senior Bowl invitation is TCU's Derius Davis. While he didn't have a significant impact in last Saturday's 55-24 upset of Oklahoma, Davis got our scout's attention with how natural he tracked and fielded punts during pre-game drills. Davis is a former 200-meter champ in Louisiana and clocked the fourth-fastest 400-meter time in the nation (48.44) in his senior year of high school. He has five career return touchdowns, including four as a punt returner, which the NFL values more than kickoff returns. On tape, he tracks the ball easily, shows good range and consistently makes the first wave miss. One player we missed on during our evaluation process last year was former Samford wide receiver Montrell Washington, who the Denver Broncos selected in the fifth round based almost entirely on his punt return skills; Davis is a similar overall prospect.
Duke LB Shaka Heyward
Nagy's take: A rising linebacker prospect at midseason is Duke's Shaka Heyward, which is why he was named this week's defensive "Stock Up" player by our staff this week after last Saturday's 13-tackle performance against ACC rival Virginia. Our staff saw Heyward in the Blue Devils' opener against Temple and he's made a nice jump over the past month, particularly with his reads and ability to defeat blocks. The latter should not be an issue for Heyward, who at almost 6-3 with 35-plus inch arms, might be the longest draftable off-ball linebacker in this year's class. We ran into former Duke coach David Cutcliffe, who is now working in the SEC league office, on the field during pre-game at Auburn a couple of weeks ago, and he told us Heyward would fly in the 40-yard dash at the NFL Scouting Combine next spring. For a league that puts a premium on both length and speed, Heyward is a name that all NFL draft followers need to get familiar with.
Ole Miss FS A.J. Finley, SS Otis Reese, LB Troy Brown
Nagy's take: A trio of Ole Miss senior defenders got our scout's attention in the Rebels' mild upset of No. 7 Kentucky last Saturday. While none are slam-dunk draftable players at this point, LB Troy Brown, SS Otis Reese and FS A.J. Finley combined for 22 tackles, and all flashed things that will transfer to the next level. Brown, a Central Michigan transfer and three-time first-team All-MAC player, is an undersized yet instinctive off-ball player who jumps around blocks and consistently gets to the ball. One thing that's always stuck out about Brown going back to CMU tape is the urgency with which he plays. Reese, a former four-star recruit who spent his first two years at Georgia, is a long-armed hybrid SS/WLB who is an aggressive overhang player in the Rebels' scheme; scouts will project him as a core special teamer at the next level. Finley is a heady and athletic three-year starter who's played all over the secondary during his four years in Oxford, and NFL teams will like the fact he has proven versatility to move around in the back end.