2023 NFL Draft update: Week 9
6 seniors generating buzz for scouts entering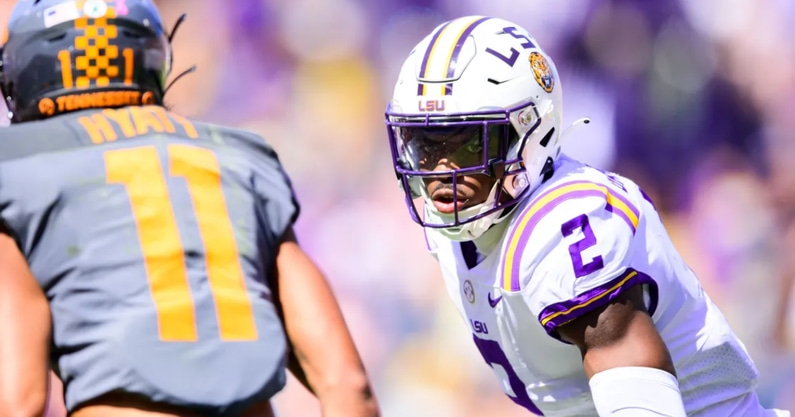 CB Mekhi Garner has started all eight games for LSU and leads the Tigers with five pass breakups. (Kristen Young/LSU Athletics)
Each week during the season, On3's Matt Zenitz teams up with Senior Bowl executive director Jim Nagy to identify some senior 2023 NFL Draft prospects generating buzz in the scouting world. Here are seven who fall into that category for Nagy and the Senior Bowl staff entering Week 9.
Hampton WR Jadakis Bonds
Jadakis Bonds, who is listed at 6 feet 4 and 200 pounds, had 157 catches and 29 touchdowns in the past three seasons at Hampton. Bonds, a former first-team All-Big South performer, has 33 catches for 583 yards and eight scores in seven games this season.
LSU CB Mekhi Garner
Mekhi Garner (listed at 6-2, 217), a transfer from Louisiana, has been a starter in all eight games for LSU and leads the Tigers with five pass breakups; he also has 25 tackles. Garner was a third-team All-Sun Belt selection last season.
Alabama TE Cameron Latu
Cameron Latu (listed at 6-5, 244) had a team-high 90 receiving yards and a touchdown on six catches during Alabama's 52-49 loss to Tennessee on October 15. Latu, a former outside linebacker and ex-high school rugby standout in Salt Lake City, has 10 touchdown receptions in the past two seasons.
Air Force TE Kyle Patterson
Although Kyle Patterson has just 18 career catches and only two career touchdowns, he's on the radar for NFL scouts as a potential draft pick. Patterson, who has verified measurements of 6-4¾, 253 pounds, has helped the Falcons average an FBS-best 336.75 rushing yards per game. His father, Shawn, played five seasons in the NFL as a defensive lineman (1988-91, '93) with the Green Bay Packers.
Ole Miss CB Deantre Prince
Deantre Prince (listed at 6-0, 185) started his college career at Ole Miss in 2019, then left the Rebels and spent a year at the junior college level before re-joining Ole Miss as a walk-on last year. Now, he's in his second season as a valued member of the Rebels' secondary. Prince has started 15 games the past two seasons, including all eight this year. He's tied for second in the SEC with eight pass breakups this season.
Boise State DBs JL Skinner, Tyreque Jones
JL Skinner and Tyreque Jones are two of the leading figures for a Boise State defense that ranks No. 1 in the Mountain West in total defense, pass defense and rush defense. Skinner, one of the bigger safety prospects in recent years at 6-4, 220 pounds, has 41 tackles and an interception after posting a team-high 92 tackles and two interceptions last season. Jones (listed at 6-2, 205), a sixth-year senior who is the Broncos' nickel back, has been a starter the past two seasons. He has 24 tackles, 4.5 tackles for loss and an interception.