WELCOME TO THE Reese's SENIOR BOWL
Credentials:
Pickup at Hancock Whitney Stadium Ticket Office (East Ticket Window of Stadium) – ID Required
Wednesday, Jan. 27: 10:00 am - 11:30 am(Hancock Whitney Stadium Gate 1)
Thursday, Jan. 28: 10:00 am - 11:30 am (Hancock Whitney Stadium Gate 1)
Friday, Jan 29: 1:00 pm – 3:00 pm (Hancock Whitney Stadium Gate 1)
Saturday, Jan. 30: 11:00 am - 1:00 pm (Mitchell Center Basketball Arena Ticket Window)
Practice Schedule and Q&A Availability:
Video and Photo are acceptable from the stands while at practice.
Q&A Post Practice:
Post practice interviews will NOT be allowed on the field. However, we will have four players per practice to be interviewed in a Q&A format from media sections 124-127. Players will remain socially distanced on the field (4 players per practice, 8 total per day). Media assistants will be at each section to direct and assist with recording devices. Recording devices will be placed in a shallow bin and transferred to a temporary podium. Television stations will be able to plug audio cables into a mult-box (weather permitting). Please be courteous of others that wish to ask questions during this time.
Evening Media Availability:
We have reached our capacity to effectively service all the requests we have received. Due to the high volume of interview requests and to help serve the media efficiently, we are capping the phone call interviews. Thank you for your interest in this new service, however the demand has far exceeded our expectations. Those of you that did receive phone interviews over the last few days, we hope it was beneficial for you and we look forward to having you all back in Mobile for 2022.
Rosters are available at www.seniorbowl.com/media
Zoom Calls:
If we are able to host Zoom calls they will be with the coaching staffs of the Dolphins, Panthers, or Senior Bowl Staff in a controlled and sanitary environment. There will not be Zoom calls with players in a one-on-one situation due to COVID protocols. Any and all video, Zoom calls, etc will be posted to the FTP.
Inclement Weather Procedures:
In case of inclement weather, practice will be moved to the covered practice facility. The indoor field will be a controlled environment and will be cleared of all non-essential workers via COVID protocols. Thus, NFL personnel will be limited, non-practice related staff will be reduced, and media members will not be able to attend. An email blast will be sent immediately to alert credentialed media the moment a decision is made to move practice. We have selected pool reporters to provide practice notes that will be uploaded to the FTP site. Photos, practice notes, and video highlights will be uploaded as soon as possible to the 2021 Reese's Senior Bowl Media FTP.
Game Day
*NOTICE: There are not game day credentials this year. We have met our seating capacity. Media wishing to attend game day will receive an admission ticket and be standing room only, socially distanced, in the VIP media terrace.
STATS Game Day Link:
http://senior.statbroadcast.com
Important Information
Masks or other PPE equipment must be worn at all times for practice while in attendance at Hancock Whitney Stadium.
Social distancing will be enforced for the health and safety of the players, staff, and members of the media. Failure to follow these guidelines will result in credentials being revoked.
The practice/game day field will be a controlled environment and will be cleared of all non-essential workers.
Stadium Info: Hancock Whitney Stadium at the University of South Alabama
500 Stadium Drive, Mobile, AL 36688.
Media will be provided credential access sections in-stadium with socially distanced seating in mind. Please socially distance while seated in the stands. Sections to be provided are 122-129 (see practice seating chart below). These eight sections will provide media with sight lines to all the action at practice, endzone to endzone, including 50-yard line seating.
Game Day
January 30, 2021 1:30pm CT, Kickoff NFL Network
Press Box game day credentials will be limited due to social distancing regulations. Credentialing for the press box will be on a case-by-case basis. Seating is very limited, partitioned by acrylic barriers, and will be granted for working press only. Please note: Capacity will be reached quickly; approval of press box game day credentials will be strictly reviewed. Press Box access is granted after a temperature check. Please email dave@seniorbowl.com for more information or requests.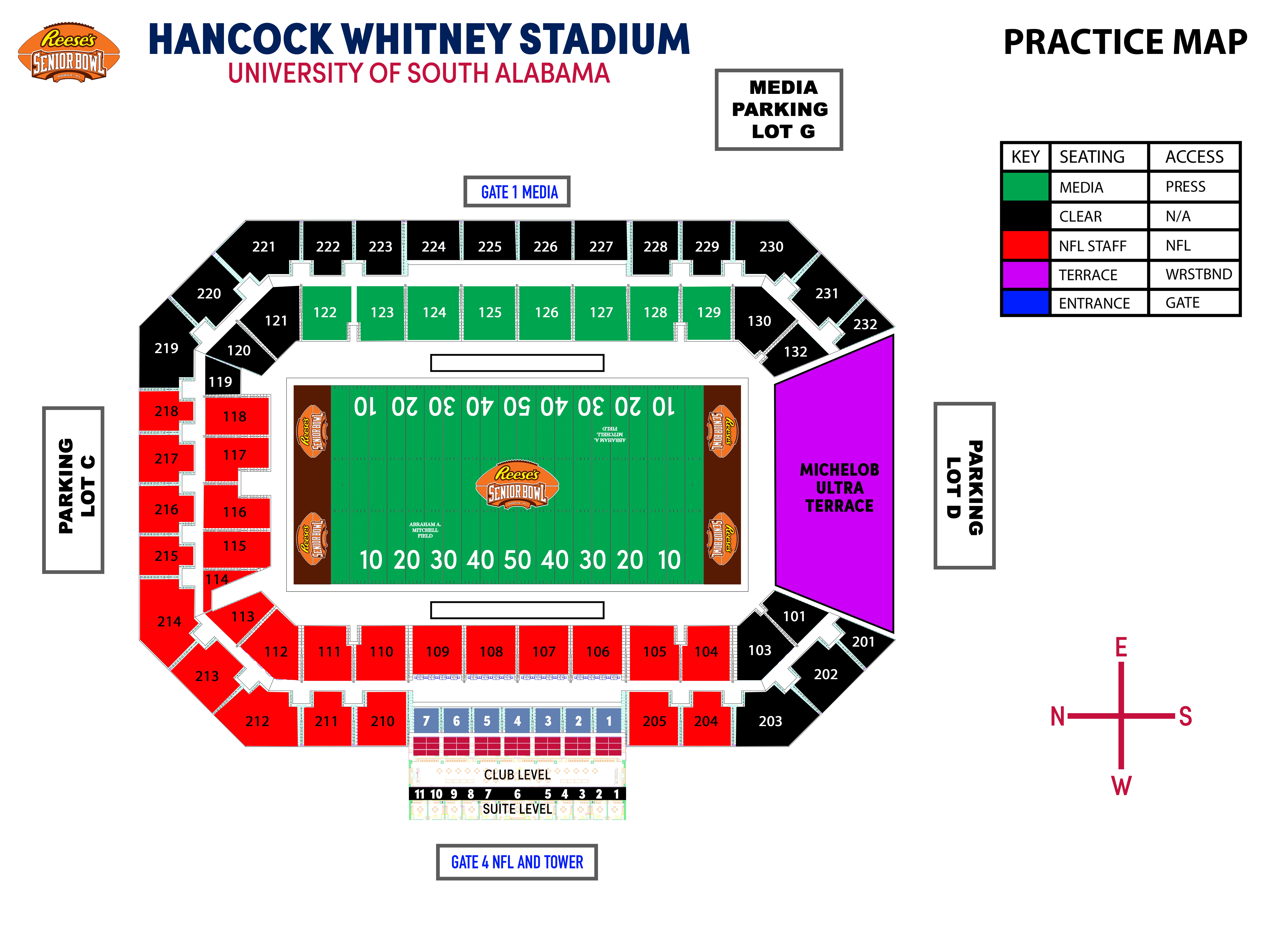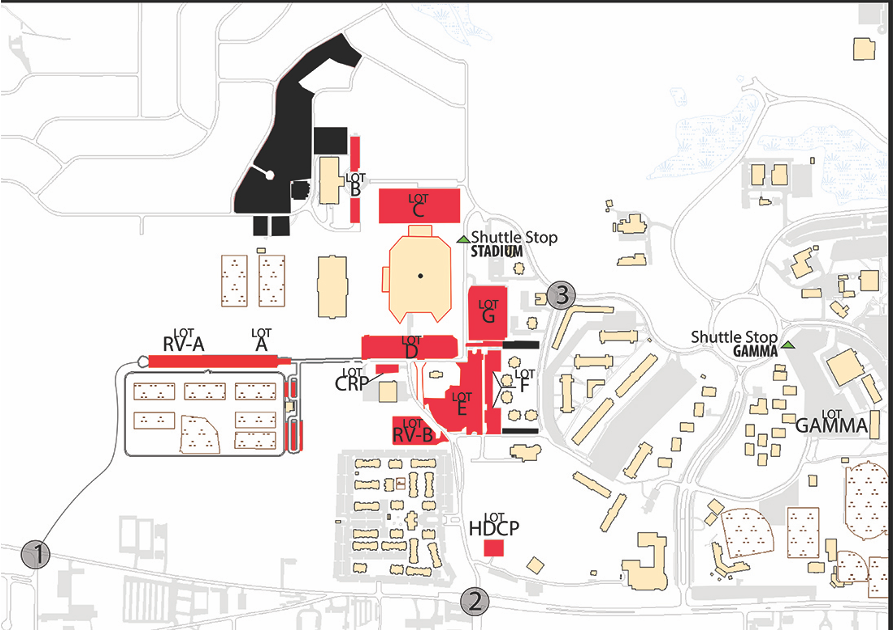 Media Contact:
Dave Rogers
Director of Marketing and Brand Strategy
OFFICE: 251.438.2276