PLAYERS OF THE WEEK
Williams, Glennon pick up weekly honors
Mon, Nov 18, 2013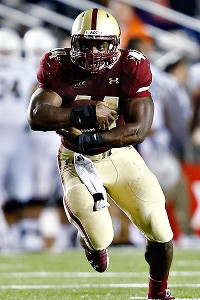 Williams rushed for 339 yards.
MOBILE -- Any time your name is being thrown around with the likes of Barry Sanders, you know you're doing something right.
Boston College running back Andre Williams continued to gash opposing defenses on Saturday, shredding North Carolina state for an ACC-record 339 yards and 2 TD in a 38-21 win. He is on pace to have the best season by a college running back since 2007 and to finish the year with 2,353 yards, third best of all time behind UCF's Kevin Smith and Oklahoma State's Barry Sanders.
Williams has 1,810 yards and is averaging 181 yards per game, which is 31 yards better than his nearest competior, Ka'Deem Carey of Arizona.
For his efforts Saturday, Williams is the Reese's Senior Bowl College Senior of the Week.
Williams has topped the 200-yard mark four times this season and is averaging 243 yards per game over his last four contests -- 317 yards over his last two games. If he can hit the 190-yard mark this weekend against Maryland, he'll eclipse the 2,000 yard mark in just 11 games.
GLENNON LEADS BUCS TO 2ND STRAIGHT WIN
Mike Glennon was handed the keys to the Bucs' offense six weeks ago when Tampa Bay released former starter Josh Freeman. And now, Glennon is starting to steer the Bucs in the right direction.
The 2012 Senior Bowler was efficient on Sunday, completing 20-of-23 passes for 231 yards and two touchdowns in a 41-28 win over Atlanta.
Over his past five games, Glennon has thrown eight TDs and just one interception. More importantly, he's now guided the Bucs to back-to-back victories, their first wins of the season.
He is the Reese's Senior Bowl Alumnus of the Week.
---