NFL DRAFT PREVIEW
Savage's NFL Combine 'Studs'
Thu, Feb 27, 2014
The 32 NFL Clubs got an up-close look at 335 of the top prospects for this year's NFL Draft during the week-long NFL Scouting Combine. Players are put through medical and psychological testing, formal and informal interviews with the teams and, of course, the on-field drills inside Lucas Oil Stadium in Indianapolis.
The on-field workouts are broken down into four days. Here is a look at the 'stud' from each day, according to Reese's Senior Bowl Executive Director Phil Savage, who spent 20 years in the NFL, four as the General Manager of the Cleveland Browns.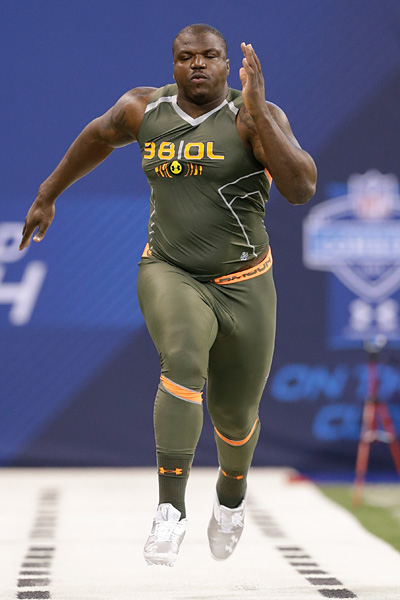 SATURDAY: Greg Robinson OT Auburn
SAVAGE: At 6'5", 332 pounds, he runs 4.92 in the 40. I tweeted that Lucas Oil Stadium had installed a gravel runaway truck ramp because he was a lot of man moving really fast. He was the star of the day.
SUNDAY: Sammy Watkins WR Clemson
SAVAGE: The junior really lived up to all of the hype. He ran fast, caught every ball, looked silky-smooth through the drills. He's a bonafide top-10 pick -- no question about that.
MONDAY: Aaron Donald DT Pittsburgh
SAVAGE: Everyone was buzzing about Aaron Donald. He was one of the standout players at the Reese's Senior Bowl, but Aaron ran sub-4.7 (in the 40), bench pressed 35 reps, jumped over 30 inches, was terrific in the drills. I think he was seen as probably a back-half of the first round (prospect), but I think now (after the Senior Bowl and Combine) he could conceivably go in the top-15 of the draft in May.
TUESDAY: Bradley Roby DC Ohio State
SAVAGE: There was not a lot of hype about the secondary players going in, but I think the player that stood out the most in terms of helping himself the most was Roby. He ran sub-4.4, caught the ball well. Now some will say Justin Gilbert (Oklahoma State) stood out the most, but he was advertised and came in and lived up to that billing. I think Roby really grabbed the attention of the player personnel people that were still there.
(See video above)
---