ACC KICKOFF
FSU's Winston: We won't be complacent
Sun, Jul 20, 2014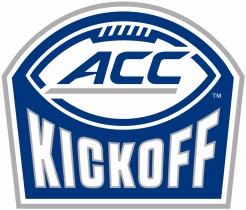 GREENSBORO, NC -- He won the Heisman Trophy. He led his school to the BCS National Championship. Not a bad freshman year for Florida State quarterback Jameis Winston.
And a tough act to follow. But, Winston says it won't be hard to avoid complacency.
"It's not hard at all. It's really easy because we always play with a chip on our shoulder and we have high expectations, and we know if we become complacent or we become off in any way that we will lose," Winston said.
With the exception of their last second win over Auburn in the BCS Championship game, the Seminoles certainly didn't get much of a challenge last year. Their closest conference game was a 14-point victory at Boston College. Outside of that, the Seminoles' average margin of victory against ACC teams was 42.1 points.
ACC THE NEW SEC?
Winston and others took pride in the conference's successfull 2013 campaign, with Florida State snapping the SEC''s string of 7 straight BCS National Championships and Clemson winning the Orange Bowl.
"How about that, man, taking the rein from the SEC, huh? We are the national champions in this conference, and that's important to me because people do need to respect the ACC more," Winston said. "We had 11 teams with a winning record last year, and that's good. I mean, we have competition here. We've got people getting drafted everywhere from this conference. I believe that Florida State, we helped gain that respect, and hopefully we can continue that."
TOUGH ROAD
IF the ACC is to match last year's 11 bowl teams and 11 teams with winning records, it won't be easy. No ACC team will face fewer than six opponents that participated in bowl games last year, while 11 of the 14 ACC teams will play at least eight bowl teams from 2013, with both Miami and Virginia each facing 10 teams that were in postseason play a year ago.
"Our teams will also play 24 nonconference games against teams that participated in bowl games in 2013, which ties for most of any Power 5 Conference," said ACC Commissioner John Swofford.
THE NEW PLAYOFF
Florida State cornerback P.J. Williams weighed in on the new four-team playoff.
"I think it's cool," Williams said. "I think it's cool being able to play an extra game, an extra big‑time game. It's just like playing a whole 'nother bowl game. It's like playing in two games and competing at a high level. We love it. The more times we can be on that big stage, the better, so we love it."
NEW KIDS ON THE BLOCK
The conference will add its 15th team as Louisville joins the ACC this season.
We know that we're in a better conference now," said Cardinals senior wide receiver Devante Parker, "so we know we have to come out hard every game and give it our all, and we'll be fine."
"The ACC has a lot of talent in it, and it just feels good to be in the ACC," said senior linebacker Lorenzo Mauldin. "I feel good to say that Louisville is in the ACC now. We finally get a chance to get recognition nationally because we've gotten plenty of times where they said that Louisville doesn't play anybody. So now we get a chance to play some nice powerhouses. You've got the FSUs, the Clemsons and the Notre Dames, and you get a chance to go out nationally and say we beat these teams."
Lousiville opens the season against Miami at home on September 1. The Cardinals finished their 2013 against the Hurricanes in Orlando at the Russell Athletic Bowl, defeating Miami 36-9.
---