PREVIEW: CFB WEEK ONE
'Bama-FSU highlight a big opening weekend
Thu, Aug 31, 2017
By Patrick Woo
Scouting Coordinator
Week 1 (All Times Eastern)
Thursday, Aug. 31
FIU at Central Florida, 6pm on CBS Sports Network
Marquee Matchup: FIU RB Alex Gardner vs. OLB Shaquem Griffin
Gardner returns in his senior campaign aiming for his first 1,000-yard season after 930 yards on 5.1 yards per carry in 2016. Griffin was among the nation's best at stopping opponents in the backfield with 20 tackles for loss and 11.5 sacks in 2016.
Buffalo at Minnesota, 7pm on Big Ten Network
Buffalo returns 14 starters from 2016 8 on defense. Minnesota begins the P.J. Fleck era and has yet to name a starting quarterback between Conor Rhoda and Demry Croft.
Marquee Matchup: Buffalo LB Khalil Hodge vs. RB Shannon Brooks
Hodge led the team with 123 tackles and was second on the team with 7.0 tackles for loss. Brooks is the leader of the two-headed rushing attack and had 16 rushing touchdowns in 2016.
Tennessee State at Georgia State, 7pm on ESPN3
Turner Field makes its debut as Parker H. Petit Field at Georgia State Stadium. Georgia State returns formers Utah-transfer Conner Manning at QB while Tennessee State debuts ex-Florida Gator Treon Harris at QB.
Marquee Matchup: Tennessee State WR Patrick Smith vs. Georgia State CB Chandon Sullivan
Smith (966 yards, 13 TD in 2016) will mostly align in the slot but will move around the field and get some matchups against one of the Sun Belt's top defenders, Chandon Sullivan, who had 3 interceptions in 2016.
OSU's Mason Rudolph is one of the top senior QBs in the nation.
Tulsa at Oklahoma State, 7:30pm on Fox Sports 1
Tulsa looks to Chad President to replace the record-setting Dane Evans (in training camp with the Philadelphia Eagles) as the QB while Oklahoma State returns Mason Rudolph, who'll make his case as the top senior QB and a prolific offense.
Marquee Matchup: Tulsa DE Jeremy Smith vs. Oklahoma State OT Aaron Cochran
Smith flashed some pass rush ability in 2016 but has to pick it up in 2017 to be considered a legitimate NFL prospect. Going against Cal grad-transfer Cochran will be a good first test.
Other Matchup to watch: Tulsa RB D'Angelo Brewer vs. Oklahoma State LB Chad Whitener
Holy Cross at UConn, 7:30pm on ESPN3
Marquee Matchup: Holy Cross QB Peter Pujals vs. UConn defense
Pujals returns for another year after suffering a season-ending injury last season. He gets an opportunity to show what he can do against a UConn defense that's been historically good but really struggled down the stretch in 2016.
Former Duck Carrington has landed in Utah.
North Dakota at Utah, 7:30pm on Pac-12 Network
Utah made some news this offseason with the addition of troubled Oregon grad-transfer Darren Carrington and naming sophomore Tyler Huntley the starting QB over incumbent and senior captain Troy Williams.
Marquee Matchup: North Dakota S Cole Reyes vs. Utah WR Darren Carrington
Reyes is a preseason FCS All-American and Big Sky Player of the Year on a national stage for the season opener and he needs to make the most of it. Knowing where Oregon grad-transfer Darren Carrington is on the field will be a good start for Reyes to show off his coverage abilities. We already know he can play in the box with his 200 career tackles.
Ohio State at Indiana, 8pm on ESPN
The Tom Allen era begins in Bloomington with the Buckeyes in town. J.T. Barrett looks to regain his Heisman contending form and this is the first look for the NFL with Billy Price at center, moving from right guard like his predecessor Pat Elflein (Minnesota Vikings) did.
Marquee Matchup: Ohio State CB Denzel Ward vs. Indiana WR Simmie Cobbs
Ward is going to be the next highly-thought-of Buckeyes DB in the eyes of the NFL and he is playing outside full-time this year after being the nickel corner last year. It's not yet known whether Cobbs will play or see a suspension after his public intoxication arrest in July. Cobbs tore his ACL last year when he was supposed to be the top target.
Other matchup to watch: Ohio State RB Mike Weber vs. Indiana LB Tegray Scales
New Mexico State at Arizona State, 10:30pm on Pac-12 Network
There are three running backs worth keeping an eye on in this game with Sun Devil Kalen Ballage as the headliner but don't forget about Demario Richard and Larry Rose III.
Marquee Matchup: New Mexico St SS Jaden Wright vs. Arizona State RB Kalen Ballage
Wright was named to the Nagurski Award watch list and he will need to be the big man on defense for the Aggies to hold down this ASU offense. Expect him to play in the box to load up against the run but can he consistently bring Ballage down?
Friday, Sept. 1
Fordham at Army, 6pm on CBS Sports Network
Why watch this game? There's a stellar running back prospect in Fordham's Chase Edmonds and a pair of offensive tackles to potentially keep an eye on for the NFL with Fordham's Anthony Coyle and Army's Brett Toth.
Marquee Matchup: Fordham RB Chase Edmonds vs. Army LB Alex Aukerman
With Andrew King and Jeremy Timpf moving on, Aukerman becomes the most experienced linebacker on a defense that was stout last season.
Washington at Rutgers, 8pm on Fox Sports 1
Chris Ash enters his second season at Rutgers with 17 returning starters but a new quarterback in Louisville grad-transfer Kyle Bolin. Washington is breaking in a virtually entirely new secondary replacing Budda Baker, Kevin King and Sidney Jones.
Marquee Matchup: Washington OT Trey Adams vs. Rutgers DE Kemoko Turay
Turay has said that 13 sacks is his goal for his senior season looking to return to freshman form when he had 11.5.
Other matchups to watch:
Washington DT Vita Vea vs. Rutgers OG Dorian Miller
Washington OC Coleman Shelton vs. Rutgers DT Sebastian Joseph
Navy at Florida Atlantic, 8pm on ESPNU
Lane Kiffin gets his Friday night primetime slot against America's service academy. Who will play quarterback at FAU, the incumbent Jason Driskel or much-maligned ex-Seminole DeAndre Johnson?
Marquee Matchup: Navy LB D.J. Palmore vs. FAU Devin Singletary
"Motor" Singletary is FAU's leading returning rusher and receiver. FAU also has some talent in the receiving corps this year but keeping Singletary contained will be step number one.
Colorado State vs. Colorado, 8pm on Pac-12 Network
This is going to be the last rivalry matchup in Denver for the foreseeable future and a year after taking the Buffs to overtime in 2015, the Rams were beat 44-7 last season. Now they've settled on Nick Stevens as their unquestioned quarterback and are already 1-0 on the season. This matchup has some serious talent at receiver with Colorado State's Michael Gallup and Colorado's quintet of Bryce Bobo, Shay Fields, Devin Ross, Jay MacIntyre and Kabion Ento with Steven Montez taking over full-time at QB for the departed Sefo LIufau.
Marquee Matchup: Colorado State WR Michael Gallup vs. Colorado CB Isaiah Oliver
Gallup won his matchup last week against Oregon State's Xavier Crawford to go for 134 yards on 9 catches. Now it's a tougher matchup going against the very talented Isaiah Oliver who slides outside permanently after playing be the nickel last year.
Other matchups to watch:
Colorado State OLB Evan Colorito vs. Colorado OT Jeromy Irwin
Colorado State MLB Josh Watson vs. Colorado RB Phillip Lindsa
Utah State at Wisconsin, 9pm on ESPN
Wisconsin was dealt a serious blow with the loss of linebacker Jack Cichy in fall camp but the quest for the Big Ten West must go on with new defensive coordinator Jim Leonhard and starting in the preseason top 10. The Badgers will have new faces in the backfield this year too with the graduations of Corey Clement and Dare Ogunbowale and there's not much behind Alex Hornibrook at QB. The Badgers have won 37 consecutive non-conference home games.
Marquee Matchup: Utah State CB Jalen Davis vs. Wisconsin WR Jazz Peavy
Davis takes over as the number one CB with the departure of Daniel Gray. Davis led the team with 7 pass breakups a year ago while Peavy looks to have a strong senior campaign.
Boston College at Northern Illinois, 9:30pm on CBS Sports Network
Boston College visits Dekalb for the first time without a loss to a MAC team since 1969. Harold Landry returns for his senior season while NIU lost some key pieces highlighted by WR Kenny Golladay and LT Levon Myers.
Marquee Matchup: Northern Illinois OT Max Scharping vs. Boston College DE Harold Landry
Landry led the nation in sacks last season with 16.5 and is already being projected as a first round prospect while Northern Illinois' offensive line returns three starters anchored by Scharping after allowing the fewest sacks in the nation in 2016 giving up just 8.
Saturday, Sept. 2
Kent State at Clemson, 12pm on ESPN
Kent State opens up against the defending national champion for the second consecutive year and once again, the defending champ has a new quarterback. Clemson will start junior Kelly Bryant after losing 78 percent of its offensive production from a year ago but returns WR Deon Cain, who's due for a breakout season.
Marquee Matchup: Kent State CB Jerrell Foster vs. Clemson WR Deon Cain
The Golden Flashes lose their top CB Najee Murray to graduation but it was Foster that led the team with 3 interceptions in 2016 and will likely get the assignment of trying to contain the explosive Cain.
Akron at Penn State, 12pm on ABC
Last season, Oklahoma had two Heisman finalists on its offense with Baker Mayfield and Dede Westbrook. Could the Nittany Lions be that team this year with Trace McSorley and Saquon Barkley? It starts at home against Akron.
Marquee Matchup: Akron RB Warren Ball vs. Penn State LB Jason Cabinda
If the Zips want to have a chance, they have to be balanced on offense. Warren Ball is back after missing 10 games last season. It's a bit of an Ohio State-Penn State matchup since Ball began his career as a Buckeye.
Maryland at Texas, 12pm on Fox Sports 1
This might be a sneaky good game with new-look Texas going against the rising Terps in year two of D.J. Durkin. Expect Shane Buechele to get the start at QB for Texas and Maryland to start Tyrrell Pigrome in a bit of a surprising choice. The Terps offense revolves around RB Ty Johnson running the ball though so that's priority one for Todd Orlando's new 3-4 multiple defense.
Marquee Matchup: Maryland DE Jesse Aniebonam vs. Texas OT Connor Williams
This is one of the better individual matchups to watch on the opening Saturday. Williams is one of the nation's best pass protectors and is already seen as a first-round NFL draft pick in April while Aniebonam led the team with 9 sacks in 2016 playing the Terps "BUCK" position.
Other matchups to watch:
Maryland DT Kingsley Opara vs. Texas OG Patrick Vahe
Maryland RB Ty Johnson vs. Texas LB Anthony Wheeler
Maryland OT Damian Prince vs. Texas LB Naashon Hughes
Maryland CB JC Jackson vs. Texas WR Collin Johnson
Maryland OC Brendan Moore vs. Texas DT Poona Ford
Maryland WR D.J. Moore vs. Texas CB Holton Hill
Ball State at Illinois, 12pm on Big Ten Network
Mike Neu and Lovie Smith both enter their second years as Ball State and Illinois face off for just the second time. The Illini have won 6 straight season openers while the Cards have won 7 straight season openers.
Marquee Matchup: Ball State DE Anthony Winbush vs. Illinois OT Christian DiLauro
Here's a matchup of two Reese's Senior Bowl watch list prospects as DiLauro moves to left tackle for his senior season. Winbush led the team with 8.5 sacks in 2016.
Wyoming at Iowa, 12pm on Big Ten Network
Nathan Stanley takes over at QB for Iowa while Wyoming has one of the hottest QBs in the country in Josh Allen. This will be the first of two tests against Power Five opponents for Allen and Wyoming.
Marquee Matchup: Wyoming QB Josh Allen vs. Iowa LB Josey Jewell
Allen kicks off his campaign to be a high draft pick against the Hawkeyes defense led by preseason first team All-American Josey Jewell.
Bowling Green at Michigan State, 12pm on ESPNU
Michigan State made Brian Lewerke the new quarterback and must move on from last season and without two of its top players, WR Donnie Corley and CB Vayante Copeland, who were removed from the team.
Marquee Matchup: Bowling Green OT Ryan Hunter vs. Michigan State DE Demetrius Cooper
Hunter returns as the Falcons most experienced linemen and moves to left tackle after starting the last two years at right tackle and left guard. He will face Demetrius Cooper, who's battling for his spot on the depth chart after a disappointing pass rush production up to this point. He needs to pick it up his senior year.
Cal at North Carolina, 12pm on ACC Network
This has be the most under-the-radar Power Five non-conference game as Cal travels across the country. Both teams have new quarterbacks and a ton of offensive production to replace.
Marquee Matchup: Cal DE James Looney vs. UNC OT Bentley Spain
Looney will play as a 3-4 defensive end this year after previously being a 3-technique DT. He will see some matchups with Spain, who is one of the better tackles in the ACC.
Other matchups to watch:
Cal WR Demetris Robertson vs. UNC CB M.J. Stewart
Youngstown State at Pittsburgh, 1pm on ACC Network
Youngstown State has to replace one of the most productive DE duos in the country from a year ago, Avery Moss and Derek Rivers, which is good news for new Pitt QB Max Browne, the USC grad-transfer.
Marquee Matchup: Youngstown State WR Damoun Patterson vs. Pitt CB Avonte Maddox
Patterson averaged 24.5 yards per catch last season and is five inches taller than Maddox. Pitt has been burned for big plays in the past but that's been a point of emphasis in improving for Maddox.
Portland State at Oregon State, 2pm on Pac-12 Network
Marquee Matchup: Portland State CB Chris Seisay vs. Oregon State WR Jordan Villamin
It's a bit of a Civil War rematch as Seisay faced off with Villamin as an Oregon duck earlier in his career.
NC State vs. South Carolina, 3pm on ESPN
This has been a good series with the last 12 matchups being split 6-6. NC State is a popular pick as a sleeper contender but have to beat the Gamecocks first. The Wolfpack will be without CB Mike Stevens trying to guard Gamecock WRs Deebo Samuel and Bryan Edwards.
Other matchups to watch: NC State DE Bradley Chubb vs. South Carolina OT Zack Bailey
Welcome to the outside. Bailey has been a starter at center and left guard but now moves out to right tackle and is first assignment will be to go against one of the nation's best in Chubb. If Bailey holds his own, he'll upgrade his NFL draft profile as well.
NC State OG Tony Adams vs. South Carolina DT Taylor Stallworth
NC State TE Cole Cook vs. South Carolina S D.J. Smith
NC State DT B.J. Hill vs. South Carolina OC Alan Knott
NC State DT Justin Jones vs. South Carolina OG Cory Helms
UTEP at Oklahoma, 3:30pm on FOX
Lincoln Riley takes over for Bob Stoops and inherits the nation's longest winning streak at 10 games. This will be our first look at Baker Mayfield's new receiving corps led by 6-foot-5 Jeffery Mead and Kentucky grad-transfer Jeff Badet.
Marquee Matchup: UTEP OG Will Hernandez vs. Oklahoma DT Matt Romar
It's not the sexiest matchup but it is All-American guard with a test against a Power Five conference nose tackle. It's going to be two strong guys trying to move each other.
Other matchups to watch: UTEP S Devin Cockrell vs. Oklahoma TE Mark Andrews
Michigan vs. Florida, 3:30pm on ABC
Both teams have returning starting quarterbacks (Wilton Speight, Luke Del Rio) but neither team will announce its starting QB. The Gators are going to with Mobile-native Lamical Perine at RB with the indefinite suspension of Jordan Scarlett as one of the 10 players, including WR Antonio Callaway, that are suspended.
Marquee Matchup: Michigan OT Mason Cole vs. Florida DE Cece Jefferson
It's widely thought that this will be Jefferson's final year as a Gator if he has a good one and declares for the NFL. Mason Cole is the Wolverines' best lineman and makes the move back out to left tackle from center because the team needs him there.
Other matchups to watch:
Michigan DT Maurice Hurst vs. Florida OG Fred Johnson
Michigan DE Chase Winovich vs. Florida OT Martez Ivey
Temple at Notre Dame, 3:30pm on NBC
New quarterbacks for both teams with Temple starting Logan Marchi and Notre Dame beginning the Brandon Wimbush era.
Marquee Matchup: Temple DE Sharif Finch vs. Notre Dame OT Mike McGlinchey
Finch's sack production was overshadowed by Haason Reddick last season but Finch can get after the passer if he stays healthy. Going against a potential first round pick in McGlinchey will be a good barometer.
Other matchups to watch:
Temple CB Mike Jones vs. Notre Dame WR Equanimeous St. Brown
Temple FB Nick Sharga vs. Notre Dame LB Nyles Morgan
Temple S Sean Chandler vs. Notre Dame TE Durham Smythe
Nevada at Northwestern, 3:30pm on Big Ten Network
Keep an eye on the Wildcats as a much-improved team that could make some noise in the Big Ten behind QB Clayton Thorson and soon-to-be all-time leading rusher at NU, Justin Jackson. Nevada meanwhile is in transition with new head coach Jay Norvell and Alabama-transfer David Cornwell taking over at QB.
Marquee Matchup: Nevada WR Wyatt Demps vs. Northwestern CB Keith Watkins
Watkins returns after an injury took away his 2016 season. Demps is the leading target at 6-foot-4 for the Wolf Pack and led the team with 686 yards.
Kentucky at Southern Miss, 4pm on CBS Sports Network
Southern Miss has to replace record-setting QB Nick Mullens while Kentucky looks to be sticking with Stephen Johnson.
Marquee Matchup: Kentucky LB Courtney Love vs. Southern Miss RB Ito Smith
Love was third on the team with 76 tackles but isn't known to be the most fluid athlete in space. Ito Smith's shiftiness may provide a problem.
Other matchups to watch:
Kentucky CB Derrick Baity vs. Southern Miss WR Isaiah Jones
Kentucky CB Chris Westry vs. Southern Miss WR Allenzae Staggers
Western Michigan at USC, 5:15pm on Pac-12 Network
The Broncos have never played a Pac-12 opponent as Tim Lester returns to lead his alma mater with a lot of pieces to replace like Zach Terrell and Corey Davis.
Marquee Matchup: Western Michigan OT Chukes Okorafor vs. USC OLB Porter Gustin
Western Michigan has had an offensive lineman drafted in the past two drafts (Willie Beavers, Taylor Moton) but Okorafor is the best of the group. He will have a good challenge against USC edge rushers Gustin and Uchenna Nwosu.
Other matchups to watch:
Western Michigan RB Jarvion Franklin vs. USC LB Cameron Smith
Western Michigan LB Asantay Brown vs. USC RB Ronald Jones
Western Michigan CB Darius Phillips vs. USC WR Steven Mitchell
Appalachian State at Georgia, 6:15pm on ESPN
Appalachian State QB Taylor Lamb opens his senior season Between the Hedges. Georgia will be without starting CB Malkom Parrish, who suffered a broken foot in camp.
Marquee Matchup: Appalachian State OG Colby Gossett vs. Georgia DT Trenton Thompson
This is a monster matchup for Gossett to earn his stripes as one of the more touted guard prospects in the upcoming draft. Thompson was a terror for opposing lines last year with 9.5 tackles for loss and a team-leading 5 sacks.
Other matchups to watch:
Appalachian State OT Beau Nunn vs. Georgia OLB Lorenzo Carter/Davin Bellamy
Appalachian State WR Shaedon Meadors vs. Georgia CB Aaron Davis
Appalachian State LB Eric Boggs vs. Georgia RB Nick Chubb/Sony Michel
Georgia Southern at Auburn
Jarrett Stidham makes his long-awaited debut on The Plains and it should be a good one.
Marquee Matchup: Ga Southern RB LA Ramsby vs. Auburn LB Deshaun Davis
Not the best game of matchups but Ramsby is the team's leading rusher and has to get established for the Eagles to have a chance against the Tigers.
Louisville vs. Purdue, 7:30pm on FOX
Marquee Matchup: Louisville QB Lamar Jackson vs. Purdue LB T.J. McCollum
McCollum followed his head coach from Western Kentucky to Purdue and now his first responsibility will be to try to contain the Heisman Trophy winner.
Other matchups to watch:
Louisville OT Geron Christian vs. Purdue DE Austin Larkin
South Alabama at Ole Miss, 7:30pm on ESPNU
The Jags of South Alabama beat Mississippi State in Starkville last year. Can they do it again in Oxford? How will the Rebs come out after the offseason full of distractions and now new coach Matt Luke and a bowl ban?
Marquee Matchup: South Alabama FS Jeremy Reaves vs. Ole Miss QB Shea Patterson
Patterson is exciting to watch when he takes off with the ball. Reaves is going to have to keep an eye on him.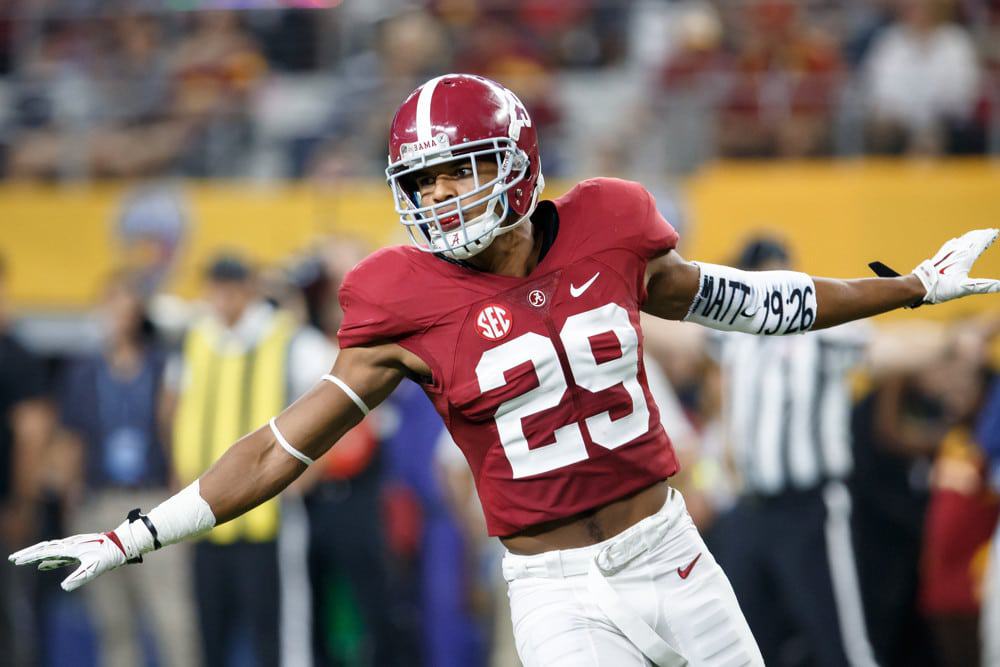 Minkah Fitzpatrick is one of the top players in the country.
Florida State vs. Alabama, 8pm on ABC
It's the big game but surprisingly not No. 1 vs. No. 2 after Florida State came in at No. 3 in the preseason polls. These are two most talented teams in the country but it's going to be won in the trenches. These are two very good defensive lines so which offensive line will perform better?
Marquee Matchup: Florida State CB Tarvarus McFadden vs. Alabama WR Calvin Ridley
Two of the nation's top juniors at any position face off. McFadden led the nation with 8 interceptions last season while Ridley is one of the most explosive threats in the country.
Other matchups to watch:
Florida State NT Derrick Nnadi vs. Alabama OC Bradley Bozeman
Florida State TE Ryan Izzo vs. Alabama S Minkah Fitzpatrick
Florida State LB Matthew Thomas vs. Alabama RB Bo Scarbrough
Arkansas State at Nebraska, 8pm on Big Ten Network
Huskers QB Tanner Lee has had an offseason full of publicity and hype and now it's finally time to take him the Big Ten stage under the lights.
Marquee Matchup: Arkansas State DE Ja'Von Rolland-Jones vs. Nebraska OT David Knevel
Rolland-Jones is looking to add onto his junior campaign in which he totaled 13.5 sacks and 20.5 tackles for loss. He's going to be a big test for the big 6-foot-9 Knevel.
Other matchups to watch:
Arkansas State TE Blake Mack vs. Nebraska S Josh Kalu
Arkansas State DT Dee Liner vs. Nebraska OG Tanner Farmer
Northern Iowa at Iowa State, 8pm
Marquee Matchup: Northern Iowa CB Malcolm Washington vs. Iowa State WR Allen Lazard
Lazard needs just 7 catches to be the all-time receptions leader in Ames. He'll be matched up against Washington, one of the top corners in the FCS, who had 4 interceptions in 2016.
Vanderbilt at Middle Tennessee, 8pm on CBS Sports Network
Derek Mason said it himself, if MTSU QB Brent Stockstill and WR Richie James were playing at other SEC schools, they'd be recognized as some of the top players in the country.
Marquee Matchup: Vanderbilt CB Tre Herndon vs. MTSU WR Richie James
James had another off-the-charts year with 105 receptions for 1,625 yards and 12 TDs in 2016. The redshirt junior will move around the formations but when he's on the outside, expect some matchups with Herndon, who had 3 interceptions in 2016.
Other matchup to watch:
Vanderbilt OT Justin Skule vs. MTSU DE Walter Brady
BYU vs. LSU, 9:30pm on ESPN
It's the first ever meeting between these two programs as the game gets moved from Houston to New Orleans due to Hurricane Harvey relief efforts. We encourage everyone reading to continue to support the relief efforts to those in the Houston area.
Marquee Matchup: BYU OLB Fred Warner vs. LSU OT K.J. Malone
Warner was all over the field in the Week 0 game with 10 total tackles but only made 1 stop behind the line. Malone returns as the most experienced lineman up front for the Tigers.
Other matchups to watch:
BYU OC Tejan Koroma vs. LSU NT Greg Gilmore
BYU LB Butch Pau'u vs. LSU RB Derrius Guice
Sunday, Sept. 3
West Virginia vs. Virginia Tech, 7:30pm on ABC
This is a nice Sunday night matchup of teams ranked No. 21 and No. 22 meeting in FedEx Field. There's excitement surrounding the two new quarterbacks – Will Grier (Florida-transfer) at West Virginia and redshirt freshman Josh Jackson for the Hokies. Grier was named preseason Big 12 Newcomer of the Year.
Marquee Matchup: WVU WR David Sills vs. VT CB Adonis Alexander
It's time to finally see if Sills will live up to the hype about his athleticism and position switch to receiver. His size will be matched up with the size of Alexander at 6-foot-3, who had 2 interceptions last season.
Other matchups to watch:
WVU RB Justin Crawford vs. VT LB Andrew Motuapuaka
Texas A&M at UCLA, 7:30pm on FOX
The Aggies sacked Rosen 5 times last year but are replacing Daeshon Hall and Myles Garrett with Jarrett Johnson and Qualen Cunningham. We still don't know if it will be Jake Hubenak or freshman Nick Starkel that gets the start at QB for A&M.
Marquee Matchup: Texas A&M FS Armani Watts vs. UCLA QB Josh Rosen
Rosen returns for round 2 against the Aggies after tossing 3 interceptions in College Station last year and being sacked 5 times. Safety Justin Evans had 2 of those 3 picks last year and Watts will be looking to replicate that.
Other matchups to watch:
Texas A&M DT Zaycoven Henderson vs. UCLA OC Scott Quessenberry
Monday, Sept. 4
Tennessee vs. Georgia Tech, 8pm on ESPN
Still no depth chart out for the Vols as we await who the starting quarterback will be to replace Josh Dobbs. The bad news for the QB is that left tackle Drew Richmond is suspended for this game. The Vols had extra time to prepare for the Tech offense but don't forget that GT went 3-0 against the SEC in 2016. The other bad news is that Vols MLB Darrin Kirkland Jr is out with injury, too. But for Georgia Tech, leading rusher Dedrick Mills was dismissed.
Marquee Matchup: Tennessee WR Jauan Jennings vs. Georgia Tech CB Lance Austin
There's not a lot of NFL talent this year for the Yellow Jackets but the seniors should get a look. Austin is a scrappy outside corner but he'll face a tall task against Jennings who will have a significant height advantage.
Other matchups to watch:
Tennessee DT Reggie McKenzie vs. GA Tech OG Parker Braun
Tennessee OT Brett Kendrick vs. GA Tech DE KeShun Freeman
Tennessee CB Shaq Wiggins vs. GA Tech WR Ricky Jeune
---