PANINI AMERICA AND REESE'S SENIOR BOWL
PANINI AMERICA AND REESE'S SENIOR BOWL SIGN EXCLUSIVE MULTI-YEAR AGREEMENT
Unique Partnership Makes Panini America Trading Cards The Official Trading Card Of The Reese's Senior Bowl, The Nation's Most Pre-Eminent Football Game For College Seniors
IRVING, Texas (October 22, 2020) – Panini America, the world's largest licensed sports and entertainment collectibles company and the exclusive trading card manufacturer of the NFL, NFLPA and college football, announced today an exclusive multiyear marketing partnership with the Reese's Senior Bowl, the nation's most prestigious college all-star game, to be the organization's official trading card.
As part of the partnership, Panini will be incorporated into a number of key activations at the Reese's Senior Bowl in Mobile, AL. In addition to making custom trading cards for each of the invited players, Panini and the Senior Bowl will also work at developing digital and social activations that celebrates the players throughout the week and as they make their way to the NFL Draft. Panini will also look to incorporate Senior Bowl elements and assets into its trading card products.
"This is an exciting partnership for the Reese's Senior Bowl. One of our main goals moving forward is to connect with more national brands and partnering with an industry leader like Panini is significant for our game, from both a visibility perspective, as well as the added value it brings to our players. Panini does a tremendous job helping players grow their own personal brands and now that process will start in Mobile for the next wave of NFL stars," said Jim Nagy, Executive Director of the Reese's Senior Bowl.
In the 72 years of the Senior Bowl it has featured 52 eventual Hall of Famers, 37 Pro Bowl players over the last two years and have included more than 500 NFL players on active rosters while also benefitting the Mobile, AL community. The 2021 Senior Bowl will take place on Saturday, January 30th at Hancock Whitney Stadium with kickoff at 1:30 CT on the NFL Network.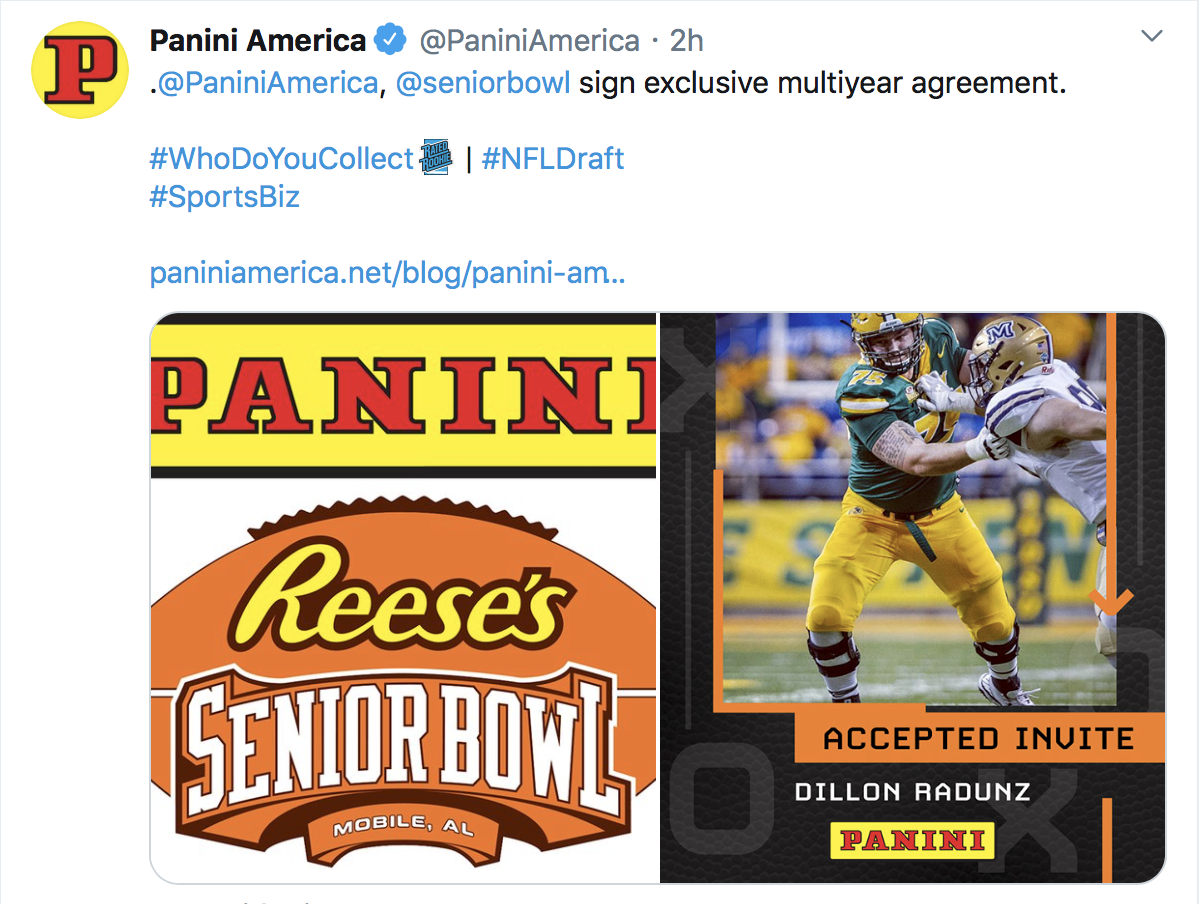 "The Reese's Senior Bowl is the marquee event for top college seniors to showcase their talents during the week-long event in Mobile. It's an important element for these players as they take their next step in their journey to the NFL and it is an important touch point for Panini America as we continue to establish our relationships with these players as they approach their Rookie season and educate them on the importance of their Rookie trading cards." said Jason Howarth, Vice President of Marketing for Panini America. "The Senior Bowl and its impact on incoming Draft classes continues to be unmatched and we look forward to kicking off this partnership in anticipation of this year's event in Mobile."
ABOUT PANINI:
The Panini Group, established more than 50 years ago in Modena, Italy, has subsidiaries throughout Europe, Latin America and the United States. Panini is the world leader in officially licensed collectibles and is the most significant publisher of collectibles in the U.S., with official licenses for NFL, NFLPA, NBA, MLBPA, College, FIFA, MLBPA, Disney, Epic Games and other key properties from many other licensors. Panini is also the exclusive trading card and sticker partner of the Pro Football Hall of Fame and Pop Warner Little Scholars, Inc. Panini has distribution channels in more than 100 countries and employs a staff of over 800. For more information visit us at www.paniniamerica.net, www.paninigroup.com or http://blog.paniniamerica.net/. You can also follow Panini America on social media platforms Facebook, Twitter, YouTube and Instagram.
ABOUT THE REESE'S SENIOR BOWL: The Reese's Senior Bowl is widely regarded as the preeminent college football all-star game and the unofficial first stage of the NFL draft process. It is also the only all-star game coached by complete NFL staffs. More than 900 NFL personnel, including key decision-makers from all 32 teams, and over 700 media members from around the country were credentialed for last year's game week. In each of the past two years, the game has produced 93 total picks, which represents 37% of the entire draft, including 40 both years in the first three rounds. Practices are aired on both the NFL Network and ESPN with game coverage exclusively on the NFL Network.