2023 NFL Draft update: Week 6
8 seniors who generated buzz among NFL scouts
Original Article: https://www.on3.com/news/2023-nfl-draft-update-seniors-who-generated-buzz-scouts-week-6/
Matt Zenitz•12 minutes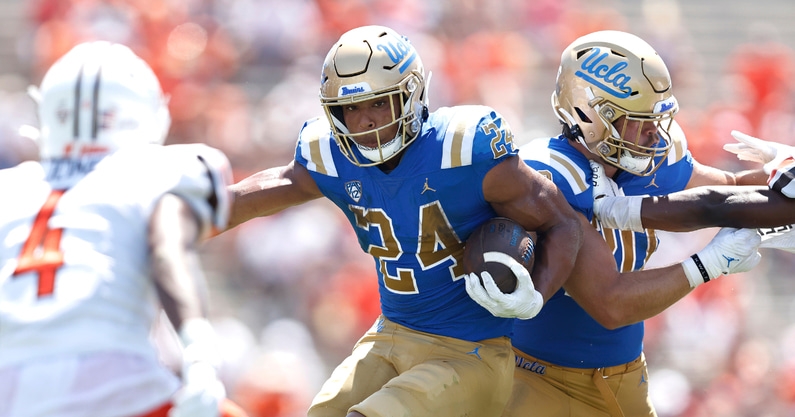 UCLA standout Zach Charbonnet is one of the more physical running backs in the 2023 draft class. (Michael Owens/Getty Images)
On3's Matt Zenitz each week during the season teams up with Senior Bowl executive director Jim Nagy to identify some senior 2023 NFL Draft prospects generating buzz in the scouting world.
Here are eight who fall into that category for Nagy and the Senior Bowl staff based on their play in Week Six.
Oklahoma State DE Tyler Lacy
Nagy's take: Tyler Lacy was among our highest-graded Big 12 defensive prospects based off junior tape, and seeing him play live only strengthened our conviction about him being a solid NFL player. Still, we do see him in a bit of a different light after spending the weekend in Stillwater. Lacy weighed in at 276 pounds last spring for NFL scouts, but he's up to 298 now, which defines his role projection more as a 3/4/5-technique rather than 'tweener EDGE/5-tech. One thing we've always liked about Lacy is his non-stop motor, and our scout said you appreciate his every-down hustle even more when you see him play live. Lacy reminds us of former Iowa DL Chauncey Golston, who parlayed a strong Senior Bowl week into being taken in the third round by the Dallas Cowboys two years ago.
Ole Miss WR Jonathan Mingo
Nagy's take: In the first five weeks of the season, Jonathan Mingo was averaging just over five targets per game. He was targeted 10 times Saturday against Vanderbilt and responded with career-bests in catches (nine) and yards (247). Mingo is a big (6 feet 1½, 225 pounds), fluid receiver who can break off short/intermediate routes. He also has the speed to threaten vertically and run away from people after the catch. The most impressive thing we saw against Vandy was Mingo hitting another gear while the ball was in the air to track down a sliding catch at the goal line. Mingo has huge hands (10½ inches) and made some "wow"-type catches in the first half of this season. Mingo checks all the boxes for a league looking for big, fast, strong, dependable and playmaking pass-catchers.
UCLA RB Zach Charbonnet
Nagy's take: We have a scout based out of Los Angeles, so we've seen UCLA play a bunch over the past couple of seasons, and the more we see Zach Charbonnet, the more we like him. While he isn't overly flashy, Charbonnet has natural pace and ruggedness as a runner that we appreciate more with every exposure. The thing that sticks out most about the hard-charging, downhill Charbonnet is that he makes you tackle him. You're not going to arm-tackle this dude. He is an innately physical back who seeks out contact more than he avoids it, and he is a load to bring down if he gets through the hole clean. Charbonnet was named our Senior Bowl Offensive Player of the Week after his performance (22 attempts, 198 yards, 1 TD) against Utah.
Florida LB Ventrell Miller
Nagy's take: Ventrell Miller had maybe the best game we've seen him play against Mizzou. Miller, a sixth-year senior who is a team captain, was all over the field, making plays both downhill and laterally. The biggest thing that stood out when we studied the game tape was Miller's discipline and decisiveness with his reads. He also showed instinctive block-slip ability and good closing burst to finish on a few plays that stretched outside the numbers. We had a chance to meet Miller at SEC Media Days in July, and he has a natural presence about him that will serve him well in NFL team interviews during the draft process.
Michigan DE Mike Morris and EDGE Eyabi Okie
Nagy's take: Michigan faced a huge challenge this offseason having to replace the pass rush of Aidan Hutchinson, the No. 2 overall pick in the 2022 NFL Draft, and second-rounder David Ojabo. Two seniors are starting to emerge along the defensive line for the Wolverines – E Mike Morris and EDGE Eyabi Okie. Both had sacks in Saturday's 31-10 road win at Indiana, and Morris added a key blocked field goal in the first half when the game was competitive. Morris, who has 7.0 TFL and 5.0 sacks this season, is a big (listed at 6-6, 292) edge player with nifty feet and a good closing burst for a man his size. Okie is a more traditional-sized outsider linebacker (the school lists him at 6-5, 244), and has one of the best first steps we've seen in this draft class. He's been extremely disruptive with 4.0 TFL and 2.5 sacks considering his low snap count so far this season. Both have been graded as "arrow-up" players by our Midwest scout. [Note: Okie used to be known as Eyabi Anoma and was a five-star signee in the 2018 class for Alabama.]
Alabama OT Tyler Steen and G Emil Ekiyor Jr.
Nagy's take: Alabama's offensive line has a bunch of new faces this season, but the group is starting to come together. In Saturday's much-hyped matchup against Texas A&M, the Tide was without starting C Darrian Dalcourt, who has been steady in games evaluated so far. The unit still did a nice job protecting redshirt freshman QB Jalen Milroe. Tyler Steen, who transferred from Vandy last spring, has been dependable at left tackle. Steen's arm length (32 ? inches) might get picked apart during the pre-draft process, but he doesn't play short-armed because he's patient and extremely efficient with his hands. Our scouts love Steen's playing demeanor in the sense that he rarely looks stressed. Another senior who has been upgraded by our staff is G Emil Ekiyor Jr., a three-year starter. When we watched Ekiyor's junior tape over the summer, he was inconsistent from game-to-game; his play has leveled out this season. This was our second live look at Ekiyor, and NFL teams are going to like his size (he's listed at 6-3, 307) and the way he comes off the ball. Ekiyor also will be one of the longest interior line prospects in the 2023 NFL Draft with his 83-inch wingspan.