Scout School
WHEN: TBA, 2021
WHERE: Senior Bowl HQ - Mobile, AL
WHO: Registration is open exclusivly to former NFL players with 2+years in the league.
DUE TO CURRENT HEALTH RESTRICTIONS, SCOUT SCHOOL HAS BEEN POSTPONED TO 2021. ADDITIONAL INFORMATION WILL BE UPDATED ONCE STATE HEALTH RESTRICTIONS ARE LIFTED.
In an effort to support former NFL players, many of which played in the Reese's Senior Bowl, we are proud to announce our second annual Senior Bowl Scout School. Currently, over one-third (34%) of the players on NFL rosters began their NFL journeys in Mobile, Alabama and we feel a responsibility to assist them when they transition away from the playing field.
On TBA, 2021, NFL alums with at least two years of accredited service are invited to explore scouting as a potential career path. The course will be led by Senior Bowl Executive Director and 18-year NFL scouting veteran Jim Nagy and Dan Hatman, Director of Scouting Development at The Scouting Academy. Nagy and Hatman will pull back the curtain on the lifestyle and all aspects of both pathways with NFL scouting departments; pro/advance scouting and college scouting.
2019 guest speakers included Bucky Brooks from the NFL Network and Tim Terry, Director of Pro Personnel with the Kansas City Chiefs. Brooks enjoyed a 12-year career in the National Football League as a player and as an area scout for the Seattle Seahawks and college scout with the Carolina Panthers. Before joining the Kansas City Chiefs, Terry previously spent 13 years with the Green Bay Packers scouting department as Assistant Director of Player Personnel.

"There is a high demand for former NFL players in the scouting profession and, for whatever reason, few guys even consider it as a viable career option. The majority of former players we've spoken with think that coaching or broadcasting are the only post-playing career avenues in football and that simply isn't the case. NFL teams are always looking for scouting candidates with strong playing backgrounds and this seminar will help educate former players on the profession", explains Nagy. "We want former NFL players to be able to make educated choices about their future and hearing first-hand from those that went from playing in the NFL to scouting in the NFL is important", adds Hatman.

Following Scout School, alums will participate in our Middle School Combine with youth in our local community and the 2022 Reese's Senior Bowl as group leaders during game week. This involvement with the Reese's Senior Bowl will expose group leaders to over 900 credentialed NFL team personnel and provide invaluable networking opportunities with scouts, coaches, and upper management.
DAILY SCHEDULE
Wednesday, TBA - Classroom sessions from 8 a.m. to 4 p.m. with hour lunch break at noon
Thursday, TBA - Classroom sessions from 8 a.m. to 4 p.m. with hour lunch break at noon
Friday, TBA - Senior Bowl Middle School Combine event from 8 a.m. to 12:30 p.m.
TOPICS TO BE COVERED
Structure and Roles within NFL Scouting Departments
Lifestyle of Pro/Advance scouts vs College Area scouts
NFL scouting calendar
Player evaluation and report writing
Film analysis
Player grading and projection
Advance scouting of opponents
How to make a college school scouting visit
Pro-day measuring and testing
Presenting reports/players in meetings
In addition to the curriculum, participants will have the opportunity to ask their own unique questions and talk strategy on how they can build a career in scouting through their network and experiences.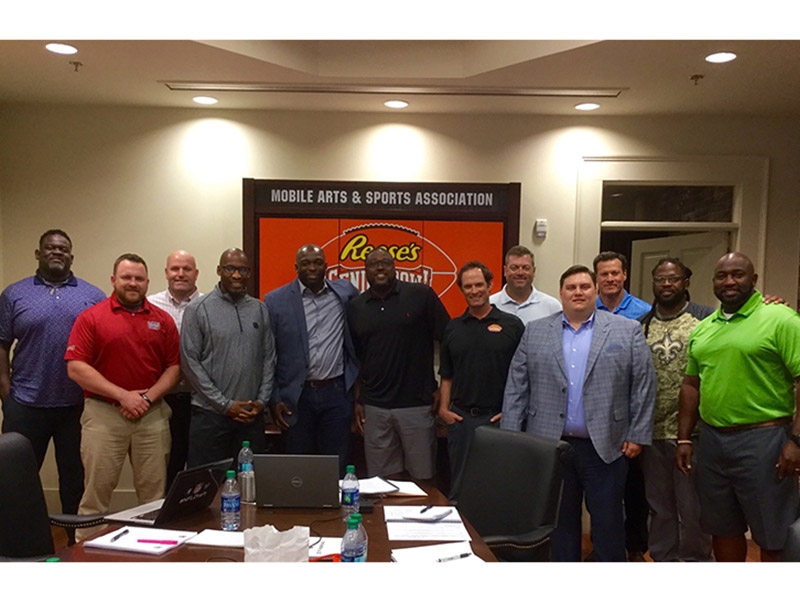 ACCOMMODATIONS
Scout school participants are free to book hotel rooms anywhere in the Mobile area but for logistical purposes we encourage attendees to stay at one of the numerous hotels downtown Mobile near Senior Bowl headquarters at 151 Dauphin Street.
AIR TRAVEL
The most convenient air travel option would be flying into Mobile Regional Airport (MOB); however, we encourage you to look into both Pensacola International (PNS) and Gulfport-Biloxi International (GPT) for possible cheaper flights. Both PNS and GPT are less than one-hour drive from downtown Mobile. Please book all travel with Tuesday night arrivals and Friday afternoon (2 p.m. or later) departures.
COST
Registration fees ($500) will cover the two-day course, as well as breakfast and lunch on both Wednesday and Thursday. Registration is limited and will be on a first come first serve basis.
If you have any questions, please contact Lauren Fleming in the Senior Bowl office at (251) 445-6007 or lauren@seniorbowl.com.