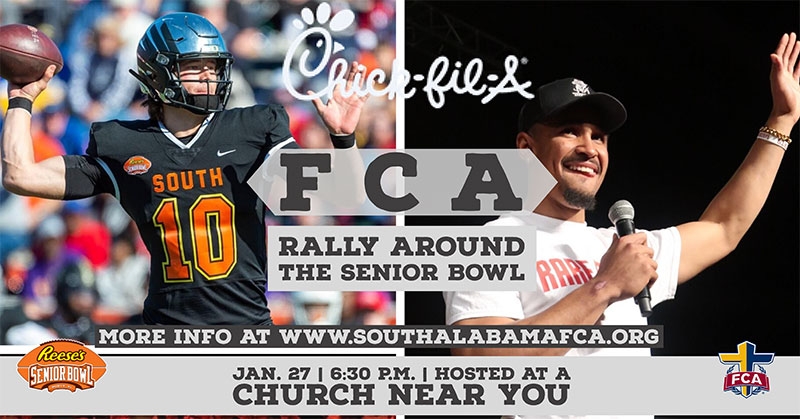 Rally Around the Senior Bowl
The Fellowship of Christian Athletes' annual Chick-fil-A Senior Bowl Rally regularly features our country's finest Christian sports figures as it's guests. Past speakers have included: Jalen Hurts, Philadelphia Eagles; Kirk Cousins, Washington Redskins, Carson Wentz, Philadelphia Eagles and many others. This year's program will continue that tradition as we hear from 2021 players. The Rally is scheduled for Wednesday, January 27 at 6pm. With Covid restrictions in place, we have moved our event from the convention center to host sites throughout south Alabama. Please go to our website, southalabamafca.org, to find one. If you would like to host a 'watch party' with 20 or more people, register on our website and we will send you the equipment you need.
"The FCA Chick-fil-A Senior Bowl Rally is an opportunity for FCA to impact thousands of students and coaches from all over Southern Alabama with the life-changing message of Jesus Christ," according to Dennis Hayford, South Alabama Director. "We want to make a positive impact on the campuses in our area."
To find out more about the rally, please call 251-510-7024
2021 Sponsors:
TITLE
Chick-fil-A
HOST
Gulf Shores Medical Center - Tom & Rhonda Davidson
Ronald & Melanie Blake
Coca-Cola
G.A. West & Company
TES Contracting Company, Inc
Industrial Wellness Rehab, Inc
Alabama Orthopaedic Sports Medicine- Dr. Dan Matthews
Fahy Medical Consulting
The Myrick Agency
Springhill Toyota
PLATINUM
City Hope church
3 Circle church
Luke 4:18 Fellowship
Pathway Church
Mr. John Zukley
Dayspring Baptist Church
Cottage Hill Baptist Church
Barnhardt Crane
Todd Burkhalter
Bagby Russell Electric
The Martin Center
Julie & Kirk Cousins foundation
GOLD
Dr. Michael D. Williams
Industry Services
Baumhowers Catering
SILVER
Baldwin EMC
Leslie B. WatsonCharitable Foundation
Gulf Fasteners
Walmart
Longleaf Timber
Mr. Jerry Carl
Pineapple UMC
Jim Boothe Contracting
Gwin's Printing
Mary Kay Enger
BRONZE
Charlie Brooke F. Brazell
Celebration Church
Edward Jones Investment - Timothy Taylor
Johnson, Slaughter, Driver, & Northcutt, CPA's
Longwood Land Mgt.
River View Turf
Cockrell's Eastern Shore
Stastka Insurance Agency
Mr. Turner Ward
Fiber Tech Industries
TEAMMATE
Barco X-Ray
Mr. Banks Ladd
Mr. Noel Turner
Mr. Eaton G. Barnard
Mr. Mike Cockrell
Creative Southern Homes, Inc.
Sharon & Gary Edgeworth
Ed's Seafood
Mr. & Mrs. Carl Havard
Paul & Sharon Ezelle
Dr. Albert F. Haas
Hedgebuilders
Mr. William M. Mordecai
Old Tyme Feed & Garden Supply
Mr. Ernest Scarbrough
Cleverdon Farms
Morgan Stanley Wealth Management