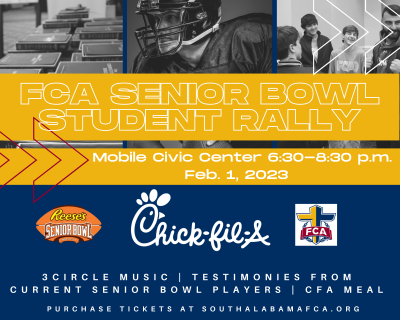 The Fellowship of Christian Athletes' annual Chick-fil-A Senior Bowl Rally regularly features our country's finest Christian sports figures as it's guests. Past speakers have included: Jalen Hurts, Philadelphia Eagles; Kirk Cousins, Minnesota Vikings, Carson Wentz, Indianapolis Colts and many others. This year's program will continue that tradition as we hear from 2022 players. The program will also feature the 3 Circle church worship Band. The Rally is scheduled for Wednesday, February 2nd, from 6:30 p.m. to 8:30 p.m. at the Civic Center in Mobile, AL.
"The FCA Chick-fil-A Senior Bowl Rally is an opportunity for FCA to impact thousands of students and coaches from all over Southern Alabama with the life-changing message of Jesus Christ," according to Dennis Hayford, South Alabama Director. "We want to make a positive impact on the campuses in our area."
To find out more about the rally, please call 251-510-7024 or go to www.southalabamafca.org. Dinner is included in the ticket price. Group tickets must be reserved by Friday Jan. 21, 2022. Individual tickets can be purchased for $5 at any Chick-Fil-A in Mobile, Daphne, or Spanish Fort up to Jan. 31. After Jan. 31, non-meal tickets will be available for purchase at the Civic center the day of the event. The rally will be from 6:30 – 8:30pm. School and Youth groups are encouraged to attend.
2023 Sponsors:
TITLE
Chick-fil-A
HOST
Dr. Tom & Rhonda Davidson
Ronald & Melanie Blake
Coca-Cola
Julie & Kirk Cousins Foundation
G.A. West & Company
TES Contracting Company, Inc
AOSM - Dr. Dan Matthews
Premier Women's Health
The Myrick Agency
White-Spunner Construction
Ashton & Co.
Joe & Fonci Bullard
The Pilot Foundation
East Pointe Baptist Church
Thompson Wealth Management
Sandy Sansing
Richard Sullivan
PLATINUM
Dr. Roberto and Cheryl Pischek
City Hope church
3 Circle church
Luke 4:18 Fellowship
Pathway Church
Mr. John Zukley
Dayspring Baptist Church
Cottage Hill Baptist Church
Barnhardt Crane
Mr. & Mrs. Todd Burkhalter
Bagby Russell Electric
Synergy Labs
Dr. Marc Miller
Aloha Hospitality
Mr. & Mrs. Kenny Breal
GOLD
Dr. Michael D. Williams
Industry Services
Reese's Senior Bowl
Coastal Church
Bay Business News
SILVER
Gulf Fasteners
Springhill Toyota
Walmart
Pineapple UMC
Jim Boothe Contracting
Gwin's Printing
Susan & Larry Turner
Willard Simmons
BRONZE
Celebration Church
Edward Jones Investment - Timothy Taylor
Mr. Carl Johnson CPA
River View Turf
Cockrell's Eastern Shore
Stastka Insurance Agency
American Waste
Island Church
Greene & Phillips
TEAMMATE
Barco X-Ray
Creative Southern Homes, Inc.
Mr. & Mrs. Richard Sharpe
Sharon & Gary Edgeworth
Dr. Albert F. Haas
M & W Crab
Jason B. Newton
Mr. J. E Scarbrough
Harold & Shirley Butts
Morgan, Trevathan & Gunn Inc.
Ron & Robbie Nabors
Souvenir City
Wesco Gas & Welding Supply