2023 NFL Draft update: Week 7
8 seniors who generated buzz among NFL scouts in Week 7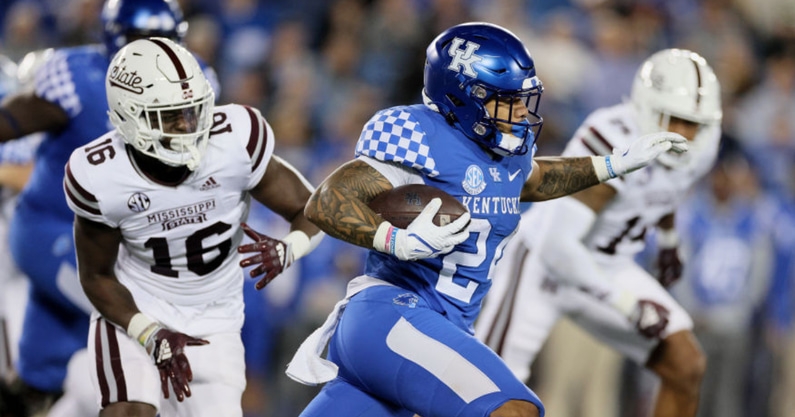 Kentucky's Chris Rodriguez rushed for career-high 196 yards and two touchdowns in a victory over Mississippi State. (Andy Lyons/Getty Images)
On3's Matt Zenitz each week during the season teams up with Senior Bowl executive director Jim Nagy to identify some senior 2023 NFL Draft prospects generating buzz in the scouting world.
Here are eight who fall into that category for Nagy and the Senior Bowl staff based on their play in Week Seven.
Tennessee OL Jerome Carvin and Darnell Wright
Nagy's take: Usually when teams like Tennessee put together special seasons it's because multiple players take big jumps, and that's what is happening right now in Knoxville. After reviewing Saturday's cigar-lighting victory over Alabama, the Vols got tremendous play from the entire offensive line, including senior RT Darnell Wright and LG Jerome Carvin. Wright, a former five-star recruit, almost looks like a different player after moving from left tackle in the offseason. He was left alone without help for most of the game and did an excellent job locking up the Tide's Will Anderson Jr., a sure-fire top-five pick in the 2023 NFL Draft. Carvin is a stout guy who has played both guard and center, and he showed great awareness picking up twists and blitzers. Line coach Glen Elarbee has done an excellent job with his unit over the past two years.

Kentucky RB Chris Rodriguez
Nagy's take: Chris Rodriguez missed the first four games of the season and did some good things his first two games back (vs. Ole Miss and South Carolina), then put on an absolute show last Saturday against Mississippi State, rushing 30 times for a career-high 196 yards and two touchdowns. QB Will Levis is a tremendous prospect, but UK's offense looks completely different with Rodriquez running downhill like he was against the Bulldogs. Every NFL team is looking for a big, 220-plus pound back who can provide balance and play situational football (i.e., a four-minute offense), and Rodriguez is that guy. Mississippi State played with heavy boxes all night and still couldn't find an answer for Rodriguez, who has good inside run instincts and subtle make-miss ability. This was without question the best game our staff has seen Rodriguez play over the past two years of studying him.
South Alabama WR Jalen Wayne
Nagy's take: Reese's Senior Bowl staff has plenty of familiarity with Jalen Wayne, who helps referee our youth flag league (held on campus) on Monday nights, and it was good to see him have a productive. Wayne, the nephew of current Indianapolis Colts receivers coach Reggie Wayne, had five catches for 127 yards and two touchdowns in the Jags' 41-34 win over ULM. At almost 6 feet 2 and 205 pounds, Wayne has good size and an NFL body. Staffers are open about the fact they think Wayne has as much physical talent as his former teammate, Jalen Tolbert, who the Dallas Cowboys took in the third round last April, and NFL scouts rolling through Mobile have been putting mid- to late-round grades on him based off early 2022 tape.
ULM WR Tyrone Howell
Nagy's take: Sticking with that game, one under-the-radar prospect who caught our attention was Tyrone Howell. He is on his fourth school; he began at Central Oklahoma in 2018, transferred to Hutchinson (Kan.) CC, moved on to Kansas State last season and is finishing up at ULM. Howell was almost un-guardable against South Alabama, with nine catches for 244 yards and three scores. Sources tell us Howell left Kansas State in search of more targets, which makes sense because he had just seven receptions for 98 yards. He has established himself as the go-to option for the Warhawks this season. Howell, who the school lists at 6-2 and 202 pounds, has 24 catches for 505 yards and looked like a draftable player in this live exposure. Howell has made some tough contested catches and impressive run-after-catch plays for ULM. He's definitely a prospect our staff will be monitoring closely for the rest of the season.
Nebraska WR Trey Palmer
Nagy's take: Another receiver who had a career-type game was Trey Palmer, who transferred from LSU after last season. He has been on our radar all season (we saw him play live earlier this fall against Oklahoma) and what's impressed us the most are his consistent hands, his savvy work versus zone and his competitiveness working the middle of the field. NFL teams that dig into Palmer's high school track background will see he ran 10.42 in the 100-meter dash, and the speed factor was more apparent in Saturday's loss to Purdue than at any other point this season. Palmer, who finished with seven catches for 237 yards and two touchdowns as well as 60-yard TD run, does a good job setting up defenders with subtle gear changes, and he simply ran past and away from the Boilermakers' secondary this weekend. That he returns punts also will help separate him from other receivers in this class. Palmer has been an ascending prospect all season and Saturday's performance was by far his best yet.
Clemson TE Davis Allen
Nagy's take: Seeing Clemson in person against Florida State helped solidify our thoughts on a few of the Tigers' prospects, including Davis Allen. At almost 6-6 and 250-plus pounds, Allen no doubt has the frame to function as an attached in-line blocker at the next level. While he doesn't appear to be a burner, Allen has enough speed (our play speed estimate is 4.75) to get down the field, and he has the body control to make difficult adjustments on the ball. The other thing that sticks out about Allen is that he naturally catches everything away from his body, which makes him a quarterback-friendly guy in the short to intermediate range and in the red zone (see the Wake Forest game, when he had two TDs). Right now, Allen projects as, at minimum, a good No. 2 tight end at the next level. We spoke to an NFL college scouting director on the sideline during pre-game who said he hoped Allen ends up in Mobile.
Central Michigan EDGE Thomas Incoom
Nagy's take: There were a bunch of eye-popping offensive performances to pick from for this week's "Player of the Week" honors but very few on the defensive side of the ball. We went with Thomas Incoom, who was in contention for DPOW last week after notching a career-high 87.5 PFF grade against Ball State. While Incoom's PFF grade was substantially lower last Saturday (55.9), he earned Senior Bowl recognition for his game-winning 63-yard scoop-and-score touchdown with under two minutes left to beat Akron 28-21. Incoom, a former Valdosta State player listed at 6-4 and 265 pounds by CMU, was a player we liked off junior tape, and his TFL and sack numbers already are better in five fewer games as a senior (10.5 TFL and 6.0 sacks this season, compared to 8.5 TFL and 4.0 sacks as a junior). On tape, Incoom shows good awareness; he knows how to use his hands in both phases of the game, and he plays with a good motor. Last year, two of Incoom's CMU teammates – offensive linemen Bernhard Raimann and Luke Goedeke – were selected to play in the Senior Bowl and both became Day 2 NFL draft picks. Going up against future pros like that clearly has helped Incoom develop his skills since leaving the D-2 level.